GAA director general Paraic Duffy worried over 'sledging'
Last updated on .From the section Northern Ireland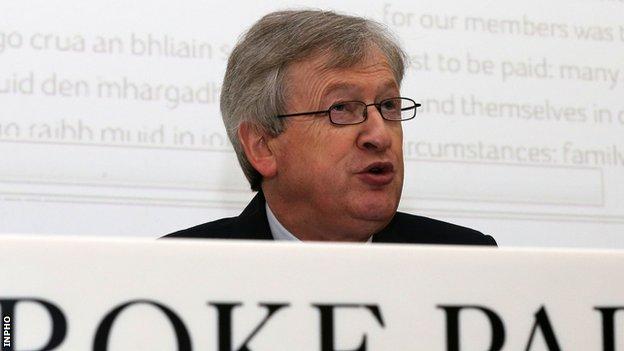 GAA director general Paraic Duffy has said that the taunting of opponents on the field of play has become a "disappointing" trend in the sport.
In his annual report, Duffy referred to a number of high profile games when the issue of sledging reared its head.
"The accusations and counter-accusations made in the wake of a number of games," said Duffy.
"The Laois v Armagh Allianz Football League game, the Ulster Club Football final and a number of other games."
Duffy added:"These highlighted what appears to be a recurring tactic by players of taunting an opponent.
"In general terms, such behaviour goes profoundly against the spirit of sport.
"More specifically, it is fundamentally at odds with the principles of our Respect Initiative, which promotes the rights, dignity and worth of each person regardless of ability, age, cultural or ethnic origin, gender, sexual orientation or religious belief.
"It would be convenient to convince oneself that 'sledging' is the norm in many sports and to accept that the aspiration of keeping our games free of such behaviour is idealistic and unachievable.
"Such responses will ill serve the values and image of the GAA.
"It is a sad reflection on our association when players earn suspension for racist comments to an opponent."
In a wide-ranging report, Duffy expresses support for the Football Review Committee proposals which aim to tackle cynical fouling in the code.
"The game that they envisage is a game that's open, that allows a skilful player to prosper.
"If the proposal is passed, it will do that. So I'd be very supportive," said Duffy of proposals which include the introduction of a new black cards system.
The director general is also backing moves to restrict the number of personnel on the sidelines during games in an attempt to reduce outbreaks of violence on the field.
"I'd be strongly supportive of the move to introduce regulations on management of the sideline and I think the President (Liam O'Neill) has taken a lot of unfair criticism around that.
"It was a decision of Central Council that we should all get behind. Over a period of time it will improve standards of discipline in the association at all levels."
Duffy paid tribute to Donegal's All-Ireland Football triumph which he described as his personal GAA highlight of 2012.
"I think probably in general terms, the most amazing thing for me was the way Donegal re-invented themselves from a team that in 2011 were criticised for their style of play and then in 2012 produced a very exciting brand of football."