Hurling League: Antrim 1-10 3-12 Dublin
Last updated on .From the section Northern Ireland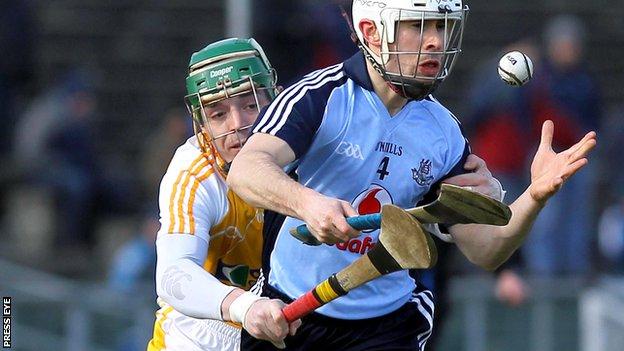 Antrim were easily beaten by Dublin in Sunday's one-sided NHL Division 1B clash at Casement Park.
Paul Ryan scored Dublin's opening goal on eight minutes and Michael Carton added a second to leave the visitors 2-7 to 0-5 ahead at half-time.
Poor defending let in Dublin forward David O'Callaghan to net midway through the second half.
Stephen Beattie's goal was a late consolation for a Saffrons side still seeking a first league point.
Ryan hit the net after eight minutes as the Dubs took control although three Neil McManus frees kept the Saffrons in touch.
Antrim keeper Ryan McGarry failed to keep out Carton's 70-metre effort, the ball slipping out of his grasp and into the net.
Eddie McCloskey and Karl Stewart were also on target for the hosts, who trailed by eight points at the interval.
O'Callaghan ensured victory with Dublin's third goal on 50 minutes, slotting in after a defensive mix-up.
Beattie's scrappy finish in the dying minutes was a rare highlight for the Ulster team and they sit bottom of the division on score difference.
Antrim: R McGarry; A Graffin, C Carson, B McFall; S McCrory, N McAuley, C McKinley; M Donnelly, E McCloskey; S Beattie, K Stewart, B McCarry; N McManus, KB McShane, S McNaughton.
Dublin: G Maguire; P Kelly, P Schutte, R Trainor; M Carton, L Rushe, S Durkin; J Boland, K Byrne; C Keaney, J McCaffrey, D Sutcliffe; P Ryan, C McCormack, D O'Callaghan.
WEEKEND ALLIANZ HURLING LEAGUE RESULTS
SATURDAY
Division 3B
Warwickshire 0-14 3-14 Sligo (Pairc na hEireann)
SUNDAY
Division 1A
Tipperary 2-17 1-19 Kilkenny (Semple Stadium)
Waterford 0-15 1-12 Cork (Dungarvan)
Clare 0-18 0-13 Galway (Ennis)
Division 1B
Limerick 3-10 1-13 Carlow (Gaelic Grounds)
Antrim 1-10 3-12 Dublin (Casement Park)
Offaly 0-16 0-14 Wexford (O'Connor Park)
Division 2A
Wicklow 3-13 2-14 Kildare (Croke Park)
Westmeath 2-13 0-9 Derry (Mullingar)
Laois 2-20 2-12 Kerry (Portlaoise)
Division 2B
Roscommon 2-11 3-15 Armagh (Athleague)
London 0-21 2-8 Down (Ruislip)
Meath 1-19 1-11 Mayo (Trim)
Division 3A
Tyrone 0-9 0-14 Donegal (Healy Park)
Louth 0-13 0-12 Fermanagh (Dowdallshill, Dundalk)
Monaghan 1-9 2-10 Fingal (Iniskeen)
Division 3B
Leitrim 1-13 0-16 Longford (Carrick-on-Shannon)