Ryan Murray handed Antrim starting role for Wicklow game
Last updated on .From the section Northern Ireland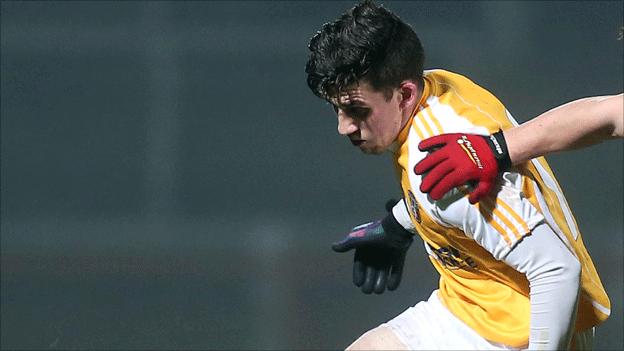 Ryan Murray has been rewarded for his impressive display as a substitute against Fermanagh by being named in the team to face Wicklow on Sunday.
Antrim manager Frank Dawson makes two changes in the forward line and a change at midfield.
Michael Herron plays at full-forward, Murray replaces Paddy Cunningham and Sean Finch starts at wing half-back.
Herron replaced Michael Pollock in the second half last week and now occupies a starting position.
Finch also made an impact after being introduced from the bench.
Paul Doherty moves from full-back to midfield in place of Michael McCann and Andy McClean switches to full-back.
Conor McManus and Darren Hughes both return to the Monaghan team for Saturday evening's Division 3 clash against Fermanagh at Enniskillen.
McManus was suspended for last weekend's win over Sligo when Hughes was also an absentee.
McManus takes over from Conor McGuinness with Hughes replacing Neil McAdam.
Mark Keogh will start between the post with Rory Beggan required for under-21 duty over the weekend.
Fermanagh will be without Sean Quigley and James Sherry for the Brewster Park clash.
Sherry is likely to miss the remainder of the league because of a broken hand with Quigley set to be out for a couple of months as well because of a broken foot.
Cavan will aim for their third straight win in Division 3 when they take on Sligo on Sunday at Markievicz Park.
Martin Dunne returns to the team after an enforced sabbatical and his Cavan Gaels team-mate Kevin Meehan is also included as the Breffni men look to build on last weekend's impressive win over Meath at Navan.
TEAM NEWS
Antrim: C Kerr, K O'Boyle, A McClean, N Delargy, T Scullion, J Crozier, S Finch, P Doherty, S McVeigh, C Murray, K Niblock, B Herron, R Murray, M Herron, T McCann.
Monaghan: M Keogh; D Mone, F Kelly, K Duffy; C Walshe, D Hughes, K O'Connell; O Lennon, D Clerkin; G Doogan, K Hughes, O Duffy; C McManus, P Finlay, T Freeman.
Cavan: A O'Mara, K Brady, J McEnroe, O Minagh, K Meehan, A Clarke, D O'Reilly, T Corr, G McKiernan, C Mackey, M Reilly, M McKeever, N McDermott, M Dunne, D Givney.
Allianz Football League fixtures
Saturday 9 March
Division One
Down v Mayo (Newry 19:00 GMT)
Division Two
Derry v Armagh (Celtic Park 19:00)
Division Three
Fermanagh v Monaghan (Enniskillen 19:00)
Division Four
Clare v Tipperary (Ennis 14:00)
London v Waterford (Ruislip 14:00)
Sunday 10 March
Division One
Donegal v Kerry (Ballybofey 14:00)
Kildare v Dublin (Croke Park 14:00)
Tyrone v Cork (Omagh, 14:30)
Division Two
Longford v Galway (Pearse Park 14:00)
Louth v Wexford (Drogheda 14:30)
Westmeath v Laois (Mullingar 14:30)
Division Three
Roscommon v Meath (Dr Hyde Park 14:30)
Sligo v Cavan (Markievicz Park 14:00)
Wicklow v Antrim (Aughrim 14:30)
Division Four
Leitrim v Offaly (Carrick-on- Shannon 14:30)
Limerick v Carlow (Gaelic Grounds 14:30)