Michael Dunlop joins Honda Legends World Endurance squad
Last updated on .From the section Northern Ireland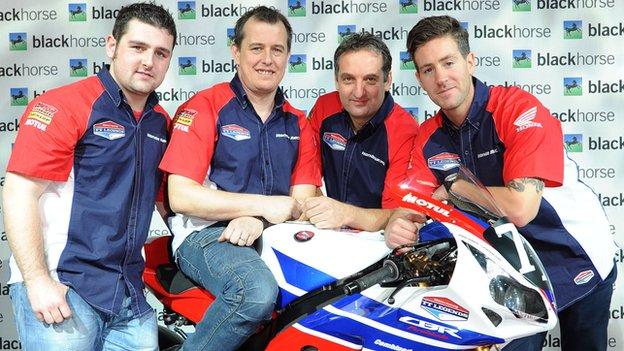 Michael Dunlop has been named as fourth rider with the Honda TT Legends squad for the World Endurance Championship 24-hour races at Bol d'Or and Le Mans.
He will also act as a reserve rider for the Suzuka 8-Hour but will not be involved at Oschersleben as the race clashes with the Ulster Grand Prix.
The 23-year-old had already been chosen as one of the team's three riders for the North West 200 and Isle of Man TT.
Dunlop replaces Cameron Donald, who recently left the Honda outfit.
The 8-hour Oschersleben event in Austria also clashed with the Dundrod race week last year. ruling John McGuinness and Donald out of action.
Dunlop will offer back-up to McGuinness, Michael Rutter and Simon Andrews at Bol d'Or in April and Le Mans in September.
Generally renowned as a roads specialist, Dunlop took part in pre-season testing with the Honda squad at circuits in France and Spain last week.
The next outing for the TT Legends team will be the official pre-Bol d'Or test at Magny Cours on 20-21 March.
The three-times TT winner will only attend the Suzuka event in Japan if McGuinness, Andrews or Rutter are unable to compete.
Dunlop described the opportunity to be part of the Endurance set-up as "a great opportunity".
"I put in a good few laps on the bike in France and Spain, so I already feel like part of the team," said the 2008 North West 200 250cc winner.
"I haven't done endurance racing before but I'm sure I'll get to grips with the short track laps soon enough. Spending more time on the bike can only be a good thing in terms of bike fitness, and that all helps on the roads so I'm looking forward to getting stuck in."
"Michael came to Albacete last week with the priority of testing his TT machine, however we also gave him the opportunity to ride the Endurance World Championship bike," explained Honda Legends team boss Neil Tuxworth.
"We were very impressed with Michael's approach to testing, his consistency and the information he was able to feed back to the team.
"In addition, with the efforts he has made with his training and physical fitness so far, we feel he deserves the opportunity to become the fourth member of the EWC team.
"We are very pleased to welcome him to the endurance side of things and we're looking forward to working with him in 2013 to further develop his career."