Football League: Antrim game against Meath postponed
Last updated on .From the section Northern Ireland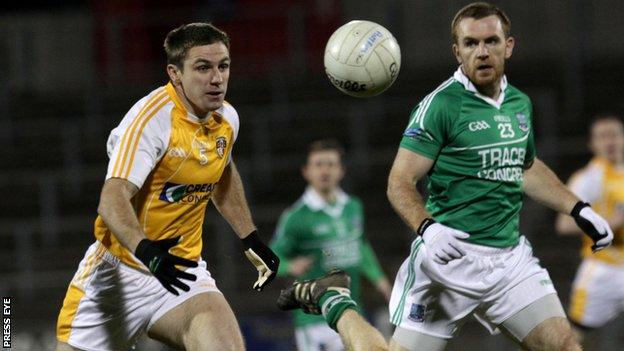 Sunday's Division Three match between Antrim and Meath has been postponed because of heavy snow and freezing conditions in Belfast.
It had been due be played at Casement Park with Antrim needing points to ease their relegation worries.
Meanwhile, Monaghan make two changes for their Division Three clash with Roscommon at Dr Hyde Park.
Drew Wylie replaces Conor Galligan in the half-backs with Malone taking over from the injured Tommy Freeman.
Monaghan currently top the table with eight points from five games and victory on Sunday would virtually guarantee them Division Two football next season given their impressive scoring difference.
Fermanagh will hope to boost their promotion hopes by beating Sligo at Brewster Park on Sunday.
The Ernemen have seven points from their opening five games while Cavan go into their game against against Wicklow in Aughrim on five points.
TEAM NEWS
Monaghan: Mark Keogh; Dessie Mone, Fintan Kelly, Kieran Duffy; Colin Walshe, Darren Hughes, Drew Wylie; Owen Lennon, Neil McAdam; Gavin Doogan, Kieran Hughes, Owen Duffy; Conor McManus, Paul Finlay, Dermot Malone.
Meath: Paddy O'Rourke; Donal Keogan, Brian Menton, Caolan Young; Ciaran Lenihan, Kevin Reilly, Davy Dalton; Brian Meade, Conor Gillespie; David Larkin, Graham Reilly, Peadar Byrne; Eamonn Wallace, Brian Farrell, Michael Newman.
WEEKEND FIXTURES
SATURDAY
Division One Football League
Dublin v Down (Croke Park, 19:00)
Division 2A Hurling League
Kildare v Kerry (Newbridge, 14:00)
Division 3A Hurling League
Fingal v Fermanagh (Croke Park, 17:15)
SUNDAY, (14:00 unless stated)
Football League
Division One
Kerry v Cork (Tralee)
Mayo v Donegal (Castlebar, 14:30)
Kildare v Tyrone (Newbridge, 14:30)
Division Two
Galway v Wexford (Pearse Stadium, 12:45)
Louth v Derry (Drogheda)
Westmeath v Armagh (Mullingar)
Longford v Laois (Pearse Park, 14:30)
Division Three
Antrim v Meath - postponed
Fermanagh v Sligo (Brewster Park)
Wicklow v Cavan (Aughrim, 2:30)
Roscommon v Monaghan (Dr Hyde Park, 15:30)
Division Four
Waterford v Offaly (Carriganore, 12:45)
London v Limerick (Ruislip, 13:00)
Tipperary v Leitrim (Thurles)
Carlow v Clare (Dr Cullen Park)
HURLING LEAGUE
DIVISION 1A
Clare v Kilkenny (Ennis)
Galway v Cork (Pearse Stadium, 14:30)
Waterford v Tipperary (Walsh Park, 14:30)
Division 1B
Carlow v Antrim (Dr Cullen Park, 12:45)
Wexford v Dublin (Wexford Park)
Offaly v Limerick (Tullamore)
Division 2A
Wicklow v Westmeath (Aughrim, 12:45)
Derry v Laois (Celtic Park)
Division 2B
Mayo v London (Castlebar, 12:30)
Roscommon v Meath (Athleague, 13:00)
Armagh v Down (Athletic Grounds)
Division 3A
Monaghan v Tyrone (Inniskeen)
Donegal v Louth (Letterkenny)
Division 3B
Longford v Warwickshire (Pearse Park, 12:45)
Sligo v Leitrim (Markievicz Park)