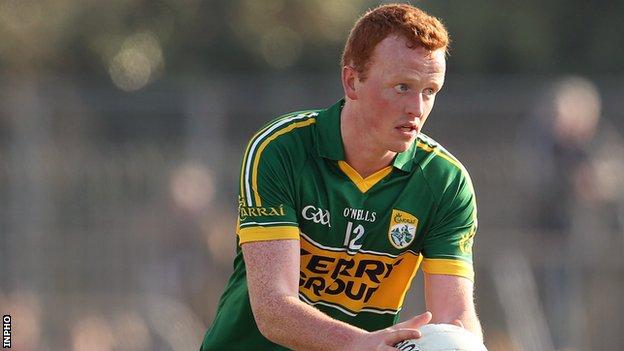 Down slipped deeper into relegation trouble as struggling Kerry registered their first win of the Division One campaign at Tralee.
Johnny Buckley landed four frees and a point from play as Kerry forged a 0-8 to 0-1 lead by half-time.
Donal O'Hare netted Down's goal early in the second half as the Mourne men mounted a mini-revival.
Darran O'Sullivan put a penalty wide after he had been fouled but it did not matter as the Kingdom had done enough.
Down effectively lost the game in the first half as they were five points in arrears before Conor Harrison scored their first point.
Declan O'Sullivan, Brian Maguire and Buckley stretched the Kerry lead.
But Down looked rejuvenated after the break and O'Hare pounced to score the game's only goal after Mark Poland's effort came off the woodwork.
O'Hare followed up with free which left Down trailing 0-08 to 1-02.
Paul Galvin, whose introduction received a great reception, set up Declan O'Sullivan for his third point.
Darran O'Sullivan missed the penalty in the 59th minute after he had been fouled by Keith Quinn.
Benny Coulter scored a point for Down before wing-back Maguire landed Kerry's final point.