Football League: Tyrone beat Kildare to reach semis
Last updated on .From the section Northern Ireland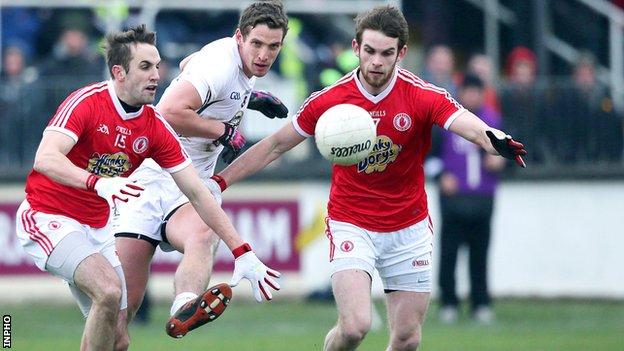 Tyrone booked their place in the Football League semi-finals with a comfortable 1-13 0-10 win at Newbridge.
And in doing so they made it four away wins from four, with Mark Donnelly's first half goal laying the foundations.
Goalkeeper Niall Morgan landed three frees for Mickey Harte's men whose final Division One fixture is at home to Kerry who are fighting for survival.
Stephen O'Neill converted an early free, and Tyrone went four clear with the eighth-minute goal from Donnelly.
He turned over possession at the expense of a hesitant Emmet Bolton, and finished to the net at the second attempt after his initial shot had been saved by Mark Donnellan.
Former Cavan attacker Seanie Johnston got the Lilywhites off the mark with a 10th-minute free, and Alan Smith added another.
But it was Tyrone, with the wind in their backs, who continued to boss the contest.
Keeper Morgan drove two long range frees between the posts, and O'Neill landed a couple of exquisite points from play, with Conor McAliskey and Ryan McKenna also hitting the target.
Ronan Sweeney pulled back a Kildare point, but it was the Red Hands who took a commanding 1-8 to 0-3 lead into the break.
Wasteful Kildare shot a rash of wides and landed a number of efforts into the arms of the goalkeeper as their efforts to drag themselves back into the game misfired in the early stages of the second half.
The Red Hands extended their advantage through Peter Harte and Paddy McNeice, while goalkeeper Morgan drilled over his third free.
The home side did manage to string together a sequence of positive moves which yielded scores, with substitute Paul Cribbin helping himself to three, but shooting wide when presented with a golden goal chance.
They outscored Tyrone by six points to one in the final 10 minutes, with Eoghan O'Flaherty and Sean Hurley also getting their names on the scoresheet.
But the Red Hands never looked like losing this one, and duly made it five victories from six outings.
Kildare scorers: P Cribbin 0-3, S Johnston 0-2 (2f), E Callagahn, E O'Flaherty, R Sweeney, A Smith, S Hurley 0-1 each.
Tyrone scorers: Mark Donnelly 1-0, S O'Neill (1f), N Morgan (3f) 0-3 each, P McNeice, P Harte (1f) 0-2 each, C McAliskey (f), R McKenna, A Cassidy 0-1 each
WEEKEND RESULTS
SATURDAY
Division One Football League
Dublin 1-15 0-09 Down
Division 2A Hurling League
Kildare 1-16 2-16 Kerry
Division 3A Hurling League
Fingal 1-16 2-10 Fermanagh
SUNDAY
Football League
Division One
Kerry 0-11 0-07 Cork
Mayo 1-10 0-09 Donegal
Kildare 0-10 1-13 Tyrone
Division Two
Galway 1-16 0-11 Wexford
Louth 1-12 2-14 Derry
Westmeath 0-17 0-16 Armagh
Longford 0-06 0-09 Laois
Division Three
Fermanagh 0-15 0-09 Sligo
Wicklow 0-11 0-14 Cavan
Roscommon 0-08 0-07 Monaghan
Division Four
Waterford 1-11 2-15 Offaly
London 1-08 1-09 Limerick
Tipperary 2-15 0-14 Leitrim
Carlow 0-06 1-07 Clare
HURLING LEAGUE
DIVISION 1A
Clare 1-15 3-10 Kilkenny
Galway 2-12 2-12 Cork
Waterford 1-06 0-11 Tipperary
Division 1B
Carlow 0-13 3-14 Antrim
Wexford 0-15 3-19 Dublin
Offaly 3-08 0-18 Limerick
Division 2A
Wicklow 2-08 0-21 Westmeath
Derry 0-08 2-20 Laois
Division 2B
Mayo 1-11 3-13 London
Roscommon 0-09 1-20 Meath
Armagh 0-14 4-11 Down
Division 3A
Monaghan 0-15 2-14 Tyrone
Donegal 3-13 0-10 Louth
Division 3B
Longford v Warwickshire
Sligo 1-15 0-06 Leitrim