Former Irish Superbike champions pursue road racing careers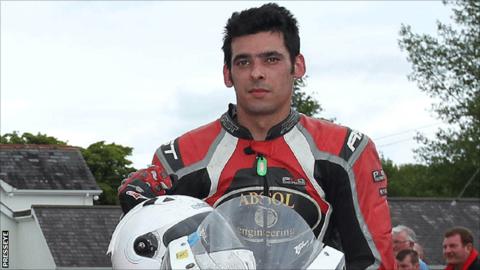 Former Irish Superbike champions Michael Pearson, Brian McCormack and Derek Sheils all decided that their futures lay primarily in road racing after initially pursuing short circuit careers.
Ahead of the Isle of Man TT, the trio spoke to the BBC Sport website about their reasons for making the switch, with Dubliner Sheils set to make his Mountain Course debut this year, and Waterford man McCormack returning with the KMR Kawasaki team.
Pearson is a late withdrawal from the TT after suffering a damaged knee and shoulder in a crash at Horice in the Czech Republic.
When did you start racing motorcycles and what were your ambitions?
Michael: I started competing in motocross at the age of 11 and then moved onto short circuit tarmac racing in 1999. I worked my way up through the various classes and achieved my ambition of winning the Irish Superbike championship in 2007.
Derek: I began doing short circuits in 2002 and had no real ambitions, just to have some fun.
Brian: I have been involved in motorcycle sport since I was very young, initially in motocross, but I knew I always wanted to progress to tarmac racing. I competed in my first short circuit event at Kirkistown in 2002.
Was it always your intention to progress from circuit racing to road racing?
Michael: I always had it in the back of my mind to go road racing but I knew my dad was not too happy about it. My first road race was the North West 200 in 2005, and then I moved on to the Ulster Grand Prix, and eventually did all the national road races. My career reached a crossroads at the end of the 2008 season when I had the choice of going to a road race or a short circuit, and I resolved then that I wanted to be a road racer.
Derek: Not really, I was just interested in doing short circuits at first, although racing at the TT had been something of a childhood ambition.
Brian: After I won a couple of Irish championships I decided to move to the roads as it was always my ambition to do the big three international meetings, which are very high profile. I was a bit apprehensive at first but it was a natural progression really.
Has your move to road racing made it easier to get sponsorship?
Michael: It has helped a bit, but the economic downturn was starting to kick in when I was coming into road racing. The past three years have been very difficult but you always seem to get by, although it often involves a lot of last-minute deals.
Derek: Yes, but mainly through fundraising efforts rather than cash handouts. The fans, media and television companies all gravitate towards road racing in Ireland so, for that reason, it attracts more sponsors.
Brian: I thought it would, but unfortunately my road racing career has coincided with a time when there is very little money available for sponsorship. I have some good people around me, but it is difficult to get personal sponsorship so I'm grateful to be involved with Ryan Farquhar and his KMR Kawasaki team.
Motorcycle racing is inherently dangerous but were you put off at all by the greater risks involved in road racing?
Michael: It is always in the back of your mind that you can get seriously hurt or killed, but once you put the helmet on and the visor comes down, you just concentrate on doing what you love doing. When a close friend dies, it does make you take a step back and think, but with the passage of time, you get back into it.
Derek: Not really, It's obviously a very risky sport and you do think about it, but you just try to ride as safely as you can. Of course you can crash through mechanical failure, through no fault of your own. You can never eliminate the dangers altogether but it's not something I intend doing for ever.
Brian: It's obviously something you think about and I talked it over a lot with my family. Road racing is a very selfish sport, but I always wanted to do it and I know I am still learning, so I like to think that I ride within my limits. I had some good results last year so now I want to push on a bit and that brings a new nervousness of its own. Nothing beats the buzz of brushing off walls and hedge.
What do you make of the current Irish short circuit scene and how do you think it could be improved?
Michael: There is no money in Irish short circuit racing so a lot of riders are finding it tight financially. It's sad to see short circuits over here in the state that they are but the cost of insurance, tyres, parts and fuel, combined with a lack of sponsors makes it difficult. What we really need is a proper motorbike track like the ones they have in England.
Derek: The grids at Irish short circuits are dwindling as you spend a lot more on tyres at those meetings and there is a lot less prize money. Even if I was winning races, the prize money wouldn't cover my expenses.
Brian: It would just be too expensive for me to compete in the British Superbike series, but the Irish short circuit scene is dying at the moment. They need one governing body with all the clubs coming together to run the meetings. Riders need to have the incentive of winning some prize money as well as spending money. I love riding on the tracks but too many inexperienced riders are being pushed onto competing in the national road racing scene because it is cheaper and offers better prize money.
What are your ambitions for this season and for the longer term, particularly at the Isle of Man TT?
Michael: I've been wanting to do the TT for a long while and I'm looking forward to competing there for the first time. When it happens, I won't be putting any pressure on myself and I just want to ride round and learn the place, getting to know the circuit. I also want to finish in the top three in the three classes I'm competing in on the Irish roads.
Derek: I'm just looking for some smooth, steady laps at the TT to start with. I have no particular finishing position in mind - I just want to enjoy it and gradually improve my lap speeds. On the Irish roads, I'd like some race wins, but Michael Dunlop is a fast man on a fast bike and he'll be hard to beat.
Brian: My target this season is to be well inside the top 10 at the North West 200, Isle of Man TT and Ulster Grand Prix. I was on for a possible top 10 when I broke down in the Superbike TT last year, and this year will be the fourth time that I have competed there. I am really comfortable on the bike and it's great to be able to draw on the vast experience of my team boss Ryan Farquhar.