GAA's Congress set to reject gaelic football black cards plan
Last updated on .From the section Northern Ireland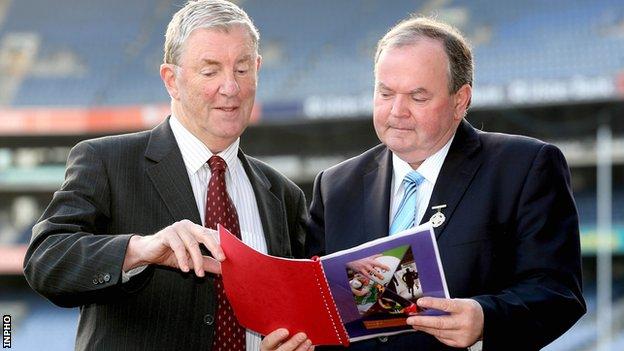 The GAA's attempt at curbing cynical fouling in gaelic football looks doomed to fail at the association's annual Congress in Derry on Saturday.
The main plank of the Football Review Committee's recommendations was a proposal for a new black card system.
This would see players who commit fouls, such as dragging down opponents, being automatically substituted.
However, with Ulster opposition notably strong, the proposal is unlikely to get the required two-thirds majority.
Earlier this week, Donegal became the sixth of the nine Ulster counties to opt against backing the FRC black card proposal with Antrim, Down, Tyrone, Armagh and Fermanagh delegates also mandated to vote against at Saturday's Congress at Ebrington Square in Derry.
There is also particularly strong opposition to the plan in Munster with Waterford, Limerick, Cork, Clare and Tipperary set to vote against while Laois and Kilkenny are also among the dissenters.
The proposed black card offences are:
1 Deliberatively pulling down an opponent
2 Deliberately tripping an opponent with hand, arm or foot
3 Deliberately colliding with an opponent after he has played the ball away or for the purpose of taking him out of the movement of play
4 Using abusive or provocative language or gestures to players
5 Remonstrating in an aggressive manner with a match official.
Players deemed by officials to be guilty of these offence would be automatically substituted .
In addition, after a team has been give three black cards, any further black cards will mean the player going off with no substitution.
The above changes will be introduced next year if approved by Congress
The present yellow card system would remain in place while the number of substitutions permitted should be increased from the present five to six, to coincide with the introduction of the proposed changes.
Other football motions on the Congress agenda include allowing a clean pick-up in gaelic football, the introduction of a 'mark' plus a proposal to punish offences such as dissent and time wasting with a 30-metre concession of territory as opposed to the current 13 metres.
This weekend's event is being held in Londonderry as part of this year's UK City of Culture events.