Hurling League: Antrim hurlers slip to defeat against Offaly
Last updated on .From the section Northern Ireland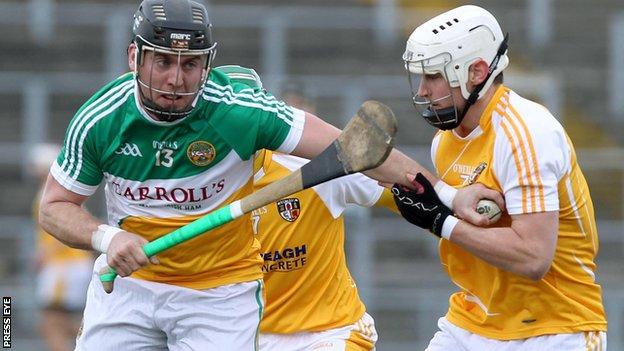 Antrim hurlers must face Carlow in a relegation play-off in two weeks after slipping to a disappointing 0-21 to 0-19 home defeat by Offaly on Sunday.
The Saffrons looked on course for victory as they led 0-19 to 0-15 after 53 minutes in Belfast.
But Offaly hit the remaining six scores as Antrim's tendency to wilt in the closing stages again reared its head.
Neil McManus hit 12 of Antrim's points but the Saffrons faded as Offaly got to grips with him late in the game.
Antrim seemed to be the victim of a couple of controversial decisions by referee Alan Kelly in the final 15 minutes of the contest but the Saffrons' failure to win was predominantly self-inflicted.
The first half was largely a free-taking exhibition from McManus and Shane Dooley with the Cushendall man hitting Antrim's opening seven points.
Antrim led 0-5 to 0-3 at one stage only for Offaly to then move into a 0-7 to 0-6 as James Mulrooney became the first player apart from Dooley to register a point for the Faithful County.
With the impressive Paul Shields, Simon McCrory and Shane McNaughton on target, Antrim moved into a 0-10 to 0-8 lead but Offaly fought back to level at 0-11 to 0-11 by half-time as Ciaran Slevin and Rory Hannify registered for the Midlanders.
The Saffrons made a big effort in the third quarter with half-time substitute Stephen McAfee making a difference and Simon McCrory and midfielder Jackson McGreevy also impressing.
A McAfee score helped Antrim lead 0-14 to 0-12 and while Offaly replied with two quick points to level, Antrim responded with four further unanswered points as full-forward Conor Carson had a purple patch as he won several long balls to set up scores.
Antrim remained four ahead at 0-19 to 0-15 with 17 minutes left and looked at that stage capable of going on to register the seven-point which could have made sure of Division 1B safety.
But a concession of a free by youngster McGreevy gifted Offaly a relieving point as Antrim's level of performance began to unravel.
With McManus finally being nullified by the Offaly defence, points from Dooley, Slevin and Hannify brought the sides level as Antrim started to concede a number of silly frees.
Colin Egan was left totally unmarked as he slotted Offaly ahead from 45 metres and referee Kelly then infuriated the Antrim contingent by awarding Dooley a free in the 68th minute after the Offaly man had appeared to take a self-inflicted tumble in the square.
But while Kelly received a chorus of boos as he left the field after the final whistle the Antrim players will surely acknowledge that they had largely been the architects of their own downfall.
Antrim did comfortably defeat Carlow at Dr Cullen Park last weekend but the play-off game in two weeks may not prove a gimme for the Saffrons.
SUNDAY'S HURLING LEAGUE RESULTS
Division 1A
Tipperary 3-19 1-14 Clare
Kilkenny 0-20 2-12 Cork
Waterford 0-12 0-15 Galway
Division 1B
Antrim 0-19 0-21 Offaly
Limerick 1-19 2-16 Wexford
Dublin 3-15 0-11 Carlow
Division 2A
Laois 0-18 0-14 Wicklow
Westmeath 1-22 2-12 Kildare
Kerry 1-13 1-12 Derry
Division 3A
Donegal 1-09 2-11 Fingal
Fermanagh 1-09 0-10 Monaghan
Tyrone 0-15 5-11 Louth
Division 3B
Warwickshire 5-18 1-16 Leitrim
Longford 4-13 1-04 Sligo
Football League Division 3
Antrim 0-11 1-19 Meath
SATURDAY RESULTS
Hurling League Division 2B
London 2-17 2-10 Roscommon
Meath 3-18 1-10 Armagh
Down 1-22 1-14 Mayo