Football League: Kerry edge 2-12 1-16 win over Tyrone
Last updated on .From the section Northern Ireland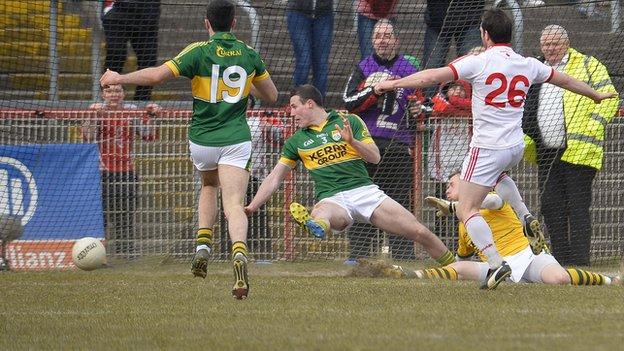 Tyrone came close to spoiling the party for resurgent Kerry, who came to Healy Park and won by a point to hold on to their Division One status.
Kerry produced a quality first half display that saw them run the Red Hands ragged on their way to a 12-point lead.
But wind-assisted Tyrone came roaring back in the second half with goals from Stephen O'Neill and Mark Donnelly.
They could have stolen it as substitute Martin Penrose saw his effort crash against a post.
The Red Hands, playing into a strong breeze, were on the back foot for almost the entire first half, and by the 10-minute mark they trailed by 0-6 to 0-1, with Colm Cooper imperious as playmaker, setting up scores for Kieran Donaghy and Declan O'Sullivan.
Tyrone keeper Niall Morgan converted a long-range free to add to Ronan O'Neill's early score, but Tyrone were putting out fires all over the field.
Donaghy, Lyne and Johnny Buckley added to the Kingdom tally, and in the 32nd minute Tomás Ó Sé punched home a goal to give them a massive 1-13 to 0-5 lead.
Tyrone grabbed a lifeline five minutes into the second half, Penrose sending Stephen O'Neill to finish past Brendan Kealy.
Conor Gormley, Conor Clarke and Darren McCurry added further scores as Tyrone cut the gap to four, before Cooper swung over a 20-metre free to make it a five points game.
But back came Tyrone again and, after Sean Cavanagh had split the posts, Mark Donnelly punched home a stoppage-time goal.
Tyrone scorers: S O'Neill 1-1, M Donnelly 1-0, D McCurry (2f), S Cavanagh (1f), C Clarke 0-2 each, J McMahon (f), P Harte, R O'Neill (f), N Morgan (f), C Gormley 0-1 each.
Kerry scorers: T O Se 1-1, Declan O'Sullivan 0-4, C Cooper (2f), K Donaghy, J Buckley (1f) 0-3 each, Darran O'Sullivan, J Lyne 0-1 each.
Tyrone: N Morgan, A McCrory, Justin McMahon, C McCarron, R McKenna, Joe McMahon, R McNamee, C Cavanagh, S Cavanagh, P McNeice, P Harte, Mark Donnelly, D McCurry, S O'Neill, R O'Neill.
Subs: M Penrose for R O'Neill, C Clarke for R O'Neill, C Gormley for Mcnamee, C McGinley for McNeice, C McAliskey for McCurry.
Kerry: B Kealy, M O Se, M Griffin, S Enright, T O Se, E Brosnan, K Young, A Maher, J Buckley, J Lyne, C Cooper, P Galvin, Declan O'Sullivan, K Donaghy, Darran O'Sullivan.
Subs: B Maguire for Brosnan, K O'Leary, for Darran O'Sullivan, D Walsh for Galvin, B Sheehan for Buckley.
Allianz Football League results
Division One
Cork 0-10 0-11 Mayo
Donegal 1-10 0-13 Dublin
Down 3-13 1-12 Kildare
Tyrone 2-12 1-16 Kerry
Division Two
Armagh 0-21 1-12 Galway
Derry 2-17 1-05 Westmeath
Louth 1-14 1-08 Longford
Wexford 1-08 0-14 Laois
Division Three
Cavan 1-07 2-14 Roscommon
Meath 2-12 0-14 Fermanagh
Monaghan 3-16 0-13 Antrim
Sligo 1-12 0-11 Wicklow
Division Four
Carlow 0-10 0-15 Waterford
Clare 0-10 1-13 Limerick
Leitrim 1-1 1-09 London
Offaly 2-11 1-08 Tipperary