Tony Scullion won't play for Antrim again during Frank Dawson reign
Last updated on .From the section Northern Ireland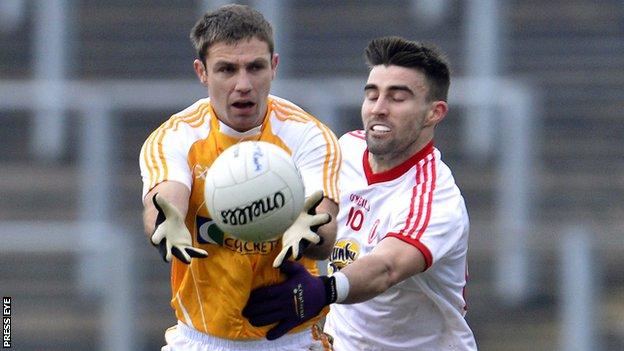 Antrim footballer Tony Scullion has said that he will not play for the county again as long as Frank Dawson remains manager.
Scullion and Tomas McCann were told not to attend last Sunday's game against Monaghan after they were unable to travel on the team bus from Belfast.
The duo wished to travel together to Clones because they were attending an anniversary mass for a deceased uncle.
However, Scullion has now suggested he will not be available to Dawson again.
"I have said that I have left it in the county board's hands - more or less saying that if Dawson goes, I'll go back, but there is no chance of that happening," Scullion told the Andersonstown News on Thursday.
"I will say what I said earlier in the week. My future is in the hands of the county board but what happened was totally wrong.
"It may not sound a big deal but it's a matter of principle. How do you tell somebody not to go to chapel?"
Scullion added that he had not been contacted by the management or county board since Sunday.
Following the county's relegation from Division 3 on Sunday, the team's performances under Dawson were discussed at an Antrim board meeting on Tuesday but county chairman Jim Murray indicated that this was a routine meeting.
Scullion denied reports that he had had a previous rift with Dawson during the manager's comparatively short reign.
"No, I have never had a problem with him," he added.
"Obviously he had had one with me but never expressed it. I have been there nine or ten years with the county but it just shows you that you're only a number."
As it stands, it appears highly unlikely that Scullion and McCann will return to the squad ahead of the Ulster Championship clash against Monaghan on 9 June.
McCann's brother Michael is also currently absent from the squad because of work commitments after setting up a new business recently.
For his part, Dawson has refused to comment directly on the controversy involving Scullion and Tomas McCann.
Speaking to the Antrim GAA website, Dawson said that the "two lads and the management team are aware of exactly what transpired from late Saturday night until Sunday morning".
"That is all history now and we move forward. We have drawn a line under the League campaign now, good performances and bad," added the Antrim manager.
"Every player in our squad got serious game time during both competitions, and based on what we have seen we are now preparing a squad for the Championship.
"There is absolutely no door closed to anyone."