G8 summit could rob Fermanagh of home game in Ulster SFC
Last updated on .From the section Northern Ireland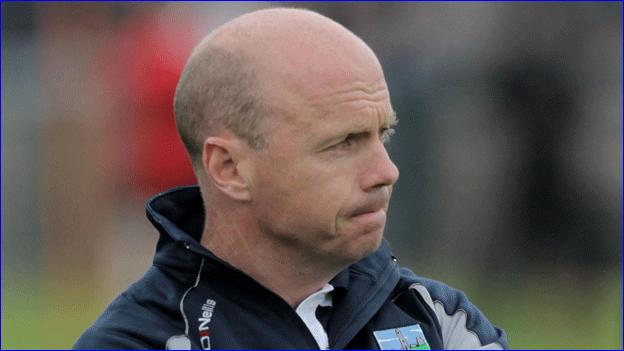 The arrival of Barack Obama and the G8 world leaders in Enniskillen in June could rob Fermanagh of a home tie in the Ulster Football Championship.
Dignitaries will be arriving in the Erne county for the start of the G8 summit at the Lough Erne Resort on Sunday 16 June.
That is the same day Fermanagh start their Ulster championship campaign.
The Erne County is expected to be in a state of effective lockdown because of the G8 security arrangements.
If Cavan beat Armagh in the preliminary round, the Breffnimen will be due to travel to Brewster Park on 16 June.
The problem will be averted if Armagh defeat Cavan on 19 May which would result in the provincial quarter-final taking place at the Athletic Grounds.
Ulster Council secretary Danny Murphy has acknowledged the potential for a major change to the fixture schedule.
And he hinted the only alternative would be a change of venue - as TV commitments mean the date of the game cannot be changed.
"We're aware of the situation but our council took a decision to make no final determination on the outcome until after the Cavan v Armagh game on 19 May," revealed the Ulster Council chief.
"We have to wait until that match is played but we know the full ramifications of what is taking place in Enniskillen."
It's understood the Ulster Council have been in discussions with security personnel and various government bodies in recent months regarding the potential fixture clash with the G8 summit, which takes place on 17-18 June.
The world leaders are expected to arrive in Fermanagh on Sunday 16 June, with one Fermanagh official admitting the county will be "in total lockdown".
With many world dignitaries also staying in Cavan, there are also major doubts over the possible staging of the game in Breffni Park.
Cavan officials have indicated they would be happy to stage the tie, and then surrender home advantage to Fermanagh the next time the counties meet.
But the prospect of thousands of supporters travelling with ease through two counties which will be awash with the world's top security personnel is remote.
Cavan secretary Liam McCabe said: "We are aware there is a potential problem on 16 June, but it is not an issue for us at the moment."
Clones is a more obvious choice and Fermanagh would be happier with a neutral venue, in the event of Brewster Park being ruled out.
"We know there is a likelihood we won't be able to stage a home fixture on 16 June should the Cavan game materialise," admitted county spokesman Johnny McManus.
"We just have to be flexible and work with the Ulster Council and see what the best outcome will be."