Kevin McKernan slams Down trio for quitting Mourne squad
Last updated on .From the section Northern Ireland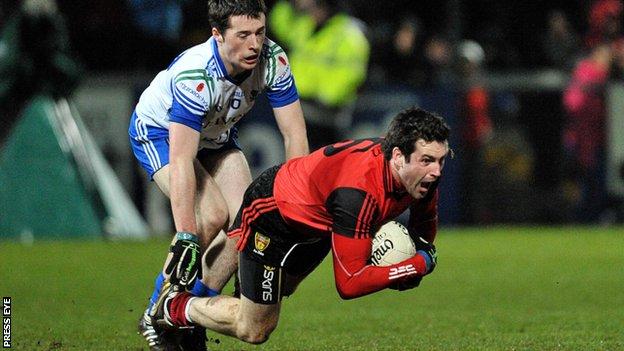 Down footballer Kevin McKernan has hit out at the decision of three of his team-mates to leave the Mourne squad prior to the Ulster championship.
Paul McComiskey has gone travelling for a year while Arthur McConville and Darren O'Hagan have gone to America in search of work.
"I'd be disappointed," stated McKernan, whose Down side face Derry on 2 June.
"The choice was a summer in America or playing for your county - to me you can go to America any time of the year."
The Mourne trio left the country before Down's last Division One league match against Kildare on 7 April.
Down won the match, with McKernan scoring a goal in the 3-13 to 1-12 victory, but James McCartan's side were still relegated from the top flight.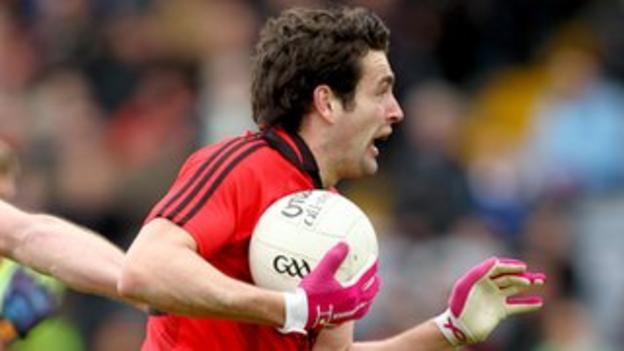 McKernan, is disappointed Down won't be at full strength when they travel to Celtic Park to play Derry in the Ulster championship quarter-final.
"I know personally I'd always work my travels around football.
"I spent six weeks in Australia in December and January last year when the season was over.
"Those boys are going to add to our team and unfortunately they're not here.
"You put losing those boys on top of Peter Fitzpatrick, Marty Clarke, Caolan Mooney (all in Australia). You can just reel men off that's gone.
"But the boys that are there are taking their chance and they're enjoying it."
McKernan still believes the squad is good enough to cause a few shocks this summer.
Part of his motivation will be to win without the players who left the squad recently.
He added: "maybe during the summer it'll turn around and bite them, the fact that we have won silverware".
"That's in the back of everyone's heads.
"We train so hard and come the Ulster championship, you never know where you'll end up."