Sean Kelly and Mark Sweeney return to Antrim football squad
Last updated on .From the section Northern Ireland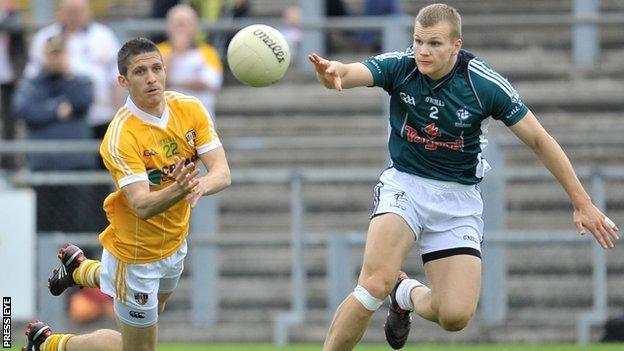 Antrim's preparations for the Ulster Football Championship have been given a badly-needed boost after Sean Kelly and Mark Sweeney returned to the squad.
Dublin-based Sweeney missed this season's league because of studies.
Tony Scullion and Tomas McCann are currently missing from the squad following a dispute with Dawson.
Scullion and Tomas McCann were told not to attend the final Football League game against Monaghan earlier this month after they were unable to travel on the team bus from Belfast.
The duo wished to travel together to Clones because they were attending an anniversary mass for a deceased uncle.
Scullion subsequently suggested that he would not be available to Dawson again.
The Saffrons suffered relegation to Division 4 after losing the Clones contest.
As it stands, it appears highly unlikely that Scullion and McCann will return to the squad ahead of the Ulster Championship clash against Monaghan on 9 June.
McCann's brother Michael is also currently absent from the squad because of work commitments after setting up a new business recently.
Therefore, the return of Kelly and Sweeney to the squad has to be regarded as a major boost for the Saffrons.
Kelly's St Gall's club-mate Niall O'Neill has also been called up to the panel while dual player Karl Stewart has also been invited to join the squad.
Stewart recently opted out of the Antrim hurling panel because of work commitments and it remains to be seen whether he will make himself available for the footballers.