Cliftonville fans to boycott rearranged Crusaders fixture
Last updated on .From the section Football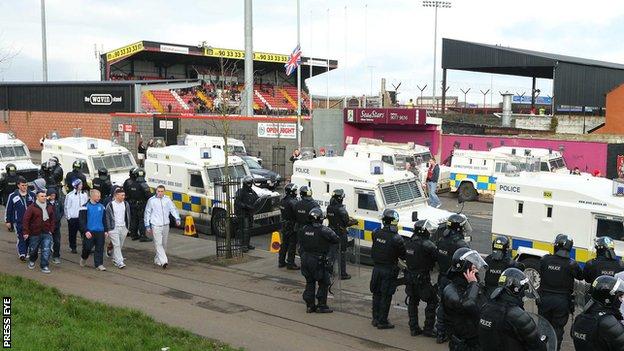 Cliftonville supporters are expected to boycott Monday's rearranged Premiership match away to Crusaders after being allocated just 200 tickets.
It is understood the restriction was placed on the number of spectators following police advice.
The match should have taken place on 16 February but had to be called off because of a protest outside Seaview.
The number of Crues fans will also be restricted, although fans with season tickets will be able to attend as well.
On the original date, Cliftonville supporters were unable to walk to the stadium because of a Union flag demonstration which had blocked the Shore Road.
Some Crusaders supporters did get in, but a decision to call off the match was made 10 minutes after the scheduled 15:00 GMT kick-off time.
At the time, the game would have been an important first against second clash, but Cliftonville have now secured the title and Crusaders are assured of finishing runners-up.
The restriction on the number of spectators at Seaview on Monday will have financial implications for Crusaders, especially as they would have had a bumper crowd if the game had taken place on the original date.
Monday's match has an earlier kick-off time of 19:15 BST.
"Any member I have spoken to says they will not be taking their ticket because the restriction is not fair," said Kevin Johnston, chairman of the North Belfast Reds Cliftonville Supporters' Club.
"Some season ticket holders and life-long Cliftonville supporters are effectively being banned from going.
"It is nothing against Crusaders, but we are being punished when we have done nothing wrong."