GAA chief Paraic Duffy says new Casement will host finals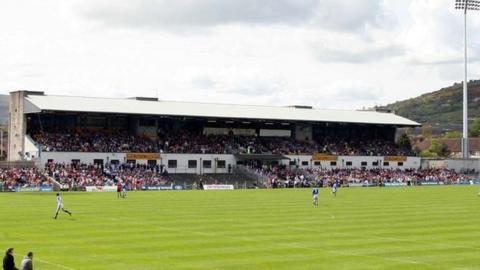 The GAA's Director General Paraic Duffy believes the new Casement Park will be the natural home of Ulster football finals and other big provincial games.
The Belfast venue is to become a 38,000 all-seater stadium and is due to be completed in 2016 at a cost of £76m.
The Ulster final is usually staged at Clones in Monaghan, although from 2004 to 2006 it was played at Croke Park to accommodate a larger capacity.
"It is inevitable Casement will become home of big GAA events," said Duffy.
"It is a cause for concern for the people of Monaghan and Clones but, if Casement Park is going to be developed to the high specification which has been outlined, that will make it the premier stadium in the province.
"All the big games and Ulster finals will go to Casement - that is the truth of it."
It is believed the redevelopment scheme at Casement Park will be a huge boost to the economy of west Belfast, creating hundreds of jobs.
GAA chief Duffy said he understood residents in the Andersonstown Road area had concerns about possible disruption and traffic congestion.
"The important thing is that there is a genuine, ongoing dialogue between the residents and the Ulster Council," he added.
"If issues are addressed on an ongoing basis, I think people will have nothing to fear.
"In fact, west Belfast will gain hugely from the redevelopment of Casement Park."