Football League: Monaghan 2-16 3-8 Meath
Last updated on .From the section Northern Ireland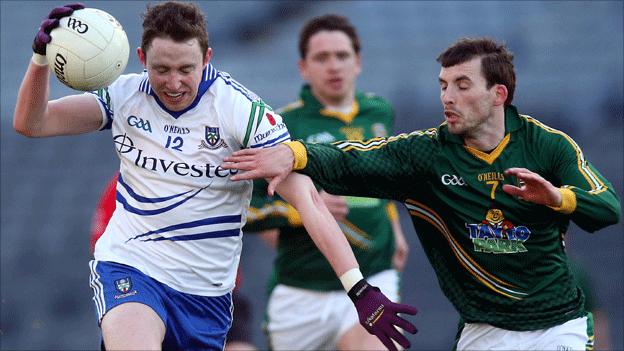 Monaghan secured an impressive five-point win over Meath in the Football League Division 3 final at Croke Park.
Eoin Duffy and Michael Newman exchanged goals within a minute as Monaghan built up a 1-9 to 1-5 lead at half-time.
Meath went ahead with the help of a Davy Dalton goal but the Farney county responded to move clear again.
A Stephen Bray goal brought Meath to within a point but Kieran Hughes found the net and Darren Hughes pointed to secure victory for the Ulster side.
Malachy O'Rourke's side got off to a flying start thanks to points from Conor McManus, Christopher McGuinness, Kieran Hughes and Duffy.
After their opponents scored their first point, Paul Finlay became the fifth different scorer for Monaghan.
Duffy scored the first goal of the game after 10 minutes, firing the ball into the top corner with his right foot after receiving a pass from Finlay.
Newman's goal with his first touch of the ball brought the score to 1-5 to 1-1 but two points from McManus increased his team's advantage.
Meath responded but McManus and Lennon pointed for Monaghan before the break.
Dalton drove the ball into the top corner to level early in the second half and Meath edged ahead at 1-9 to 2-7, but were then guilty of squandering a number of scoring opportunities.
Five unanswered points from Duffy (2), Finlay, Lennon and McManus saw Monaghan power away but Bray's 65th-minute goal after a defensive mix-up in the Farney defence gave Meath hope.
Kieran Hughes completed a fine individual performance with his goal and Darren Hughes' point made sure of the victory.
TEAMS
Monaghan: R Beggan; K Duffy, D Wylie, R McNally, D Hughes, N McAdam, C Walshe, O Lennon, D Clerkin, P Finlay, D Malone, O Duffy, K Hughes, C McManus, C McGuinness.
Meath: P O'Rourke, E Harrington, B Menton, C Young, C Lenihan, K Reilly (capt), D Dalton, B Meade, C Gillespie, P Gilsenan, G Reilly, P Byrne, E Wallace, S Bray, M Newman