Donegal's Patrick McBrearty absent for O'Brien bite hearing
Last updated on .From the section Northern Ireland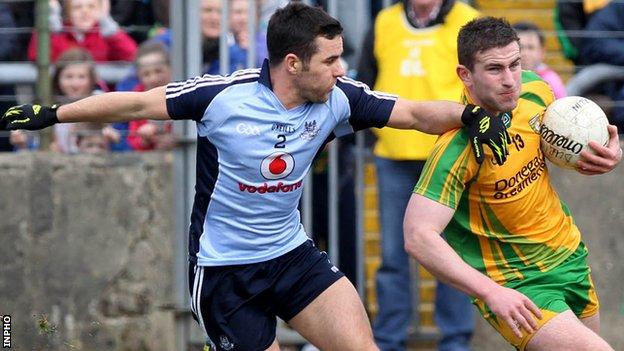 Donegal forward Patrick McBrearty failed to attend a disciplinary hearing into an allegation that he was bitten by Dublin's Kevin O'Brien in March.
McBrearty went against advice by Donegal management and the county executive to attend the CHC hearing over the incident in a league game.
O'Brien escaped a ban on appeal after GAA chiefs said the allegation made against him was "not proven".
A three-match ban was initially recommended for O'Brien.
The suspension was suggested by the
This was overturned after an appeal to Croke Park's Central Hearings Committee.
The GAA said that the CHC's decision had been taken "on the basis of the evidence provided and the submissions made on behalf of both parties".
As a result, O'Brien is now eligible to play against Tyrone in Sunday's Football League Division 1 Final at Croke Park.
The incident related to a claim by Donegal that their forward Paddy McBrearty had been bitten during the Football League game in March.
McBrearty is understood not to have attended Thursday's appeal hearing although the Central Competitions Control Committee still proceeded with the case in his absence.
The Kilcar man needed treatment for a cut shoulder, which he sustained in the first half of the drawn match, which consigned Donegal to relegation.
Donegal officials had revealed that referee was informed of the injury and the allegation was mentioned in the referee's report.
Dublin were also made aware of the matter and the Dubs' team doctor was shown McBrearty's injury after the Division 1 game on 7 April.
However, Dublin chairman Andy Kettle said that the county's doctor had expressed the opinion that McBrearty's injury looked to be a "bruise, not a laceration".
McBrearty's shoulder was treated at half-time and following the Ballybofey contest and the Kilcar club-man was then taken to Letterkenny Hospital for a further assessment.
However, McBrearty was able to line out in the Ulster Under-21 Final against Cavan three days later.