Michael Dunlop wins both Superbike races at Cookstown 100
By Richard Petrie
BBC Sport NI
Last updated on .From the section Northern Ireland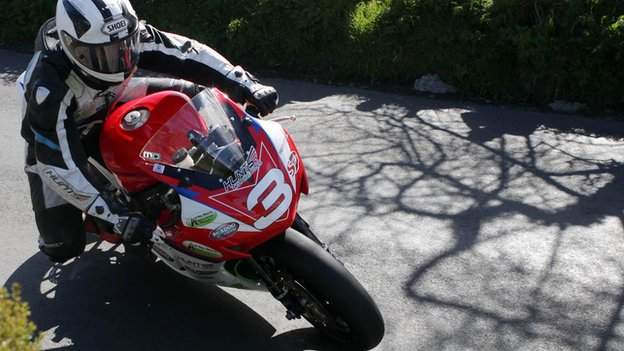 Michael Dunlop clinched a Cookstown 100 double, with victories in the 10-lap feature race and the Open event.
Dunlop broke the course lap record on three occasions on the way to overhauling early leader Guy Martin in the main race of a sun-drenched day.
The 24-year-old dominated the Open class, with Martin again runner-up.
Martin beat Dunlop in the Supersport 600 race, William Dunlop was the 250cc victor, Paul Robinson won the 125 class and Jamie Hamilton won the Supertwins.
Michael Sweeney and William Davison were second and third behind KMR Kawasaki rider Hamilton.
Lincolnshire Tyco TAS Suzuki rider Martin led early on in the feature race but Honda-mounted Ballymoney man Dunlop proved too strong in the end.
Derek Sheils was third, with Michael Pearson, Hamilton and Dean Harrison making up the top six leaderboard.
Michael Dunlop won the Open race in impressive and comfortable fashion on his Honda Fireblade, from Suzuki-mounted Martin, who overtook CD Racing Kawasaki racer Derek Sheils to claim second position.
Pearson, Hamilton and Harrison again completed the top six.
Martin saw off a late charge by Michael Dunlop to win the Supersport eight-lapper by just 0.1 seconds, with newcomer Harrison in third.
William Dunlop was out of luck in the 125cc event, retiring at the end of lap two while leading, leaving Robinson to take the chequered flag.
The Ballymoney rider finished three seconds ahead of Wilson, with Bruce Moulds completing the podium places in his first ever road race.
Dungannon man and former Cookstown winner Nigel Moore dropped out with mechanical problems on lap four.
William Dunlop secured a 250cc success, with two seconds to spare over Sam Wilson, with Davy Morgan in third.
The elder of the Dunlop brothers retired on the grid at the start of the event but was able to take his place on pole position for the re-start after the race had been red-flagged.
Trevor Reid was taken to hospital for observation following an incident near the start-line at the end of lap one.
Wilson led during the early part of the three-lap re-run, but was overhauled by Dunlop, who enjoyed a 1.8 second advantage at the finish.
Davy Morgan was third while Seamus Elliott won the concurrently run Moto450 class on the Orritor circuit.
Cookstown 100 feature race - 1 M Dunlop; 2 G Martin; 3 D Sheils; 4 M Pearson; 5 J Hamilton; 6 D Harrison
Open race - 1 M Dunlop; 2 G Martin; 3 D Sheils; 4 M Pearson; 5 J Hamilton; 6 D Harrison
Supersport 600 - 1 G Martin; 2 M Dunlop; 3 D Harrison; 4 D Sheils; 5 M Pearson; 6 D McGee
250cc - 1 W Dunlop; 2 S Wilson; 3 D Morgan
125cc - 1 P Robinson; 2 S Wilson; 3 B Moulds
Supertwins - 1 J Hamilton; 2 M Sweeney; 3 W Davison