North West 200: Steve Parrish on the prospects for the 2013 races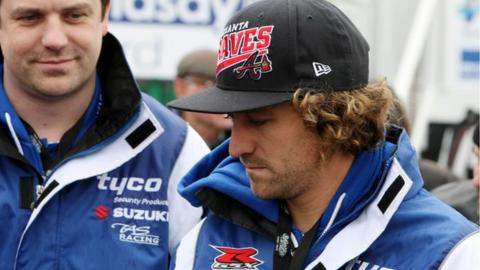 The addition of Josh Brookes to the North West 200 entry is great news and I believe he has the potential to win in his first year at the event.
Josh is the most high profile newcomer for some considerable time and by the sound of it he has been chomping at the bit to make his road racing debut.
Now that he has finally persuaded his bosses at Tyco Suzuki to let him race on the roads, he has the opportunity and the quality to become a real force to be reckoned with.
He has a much better chance of making an immediate impact at the North West than at the Isle of Man TT as it's possible to learn the circuit very quickly on your first appearance.
He needs some good weather and plenty of practice time on the bikes, but if he gets the hang of it, he will take some beating.
Josh is ultra-competitive, he has a good bike under him, and is with a good team, but the other key component is getting to grips with riding the Coast Road section.
Jeremy McWilliams proved what he could do as a first-timer last year and he's a lot older than Josh.
Karl Harris is another notable newcomer - and although I don't think he can win, he's a hard charger and I expect him to be there or thereabouts.
But if you're looking for favourites, then the first name you must come to is Alastair Seeley, as he has been the man to beat in recent years.
Alastair should be in contention for every race, but a possible showdown with Stuart Easton in the Supersport class is a particularly mouthwatering prospect.
The two of them have been battling it out at the front in the British championship and there is every chance that their rivalry will now be transferred to the North West 200.
Neither of those guys contest the TT, so as far as road racing is concerned, this is their one big meeting of the year.
Stuart survived a potentially career-ending accident on the Cromore section two years ago, but he has shown great determination to bounce back, and it's wonderful to see that he can be competitive at the front again.
This year's entry list is probably as good as we have ever had and reads like a real who's who of road racing. I wouldn't want to be putting any money on the outcomes.
There are up to 12 potential winners or podium finishers in every race, but I believe Michael Dunlop could be Seeley's biggest threat.
He has lost a lot of weight, has plenty of miles under his belt with the Honda Legends World Endurance team, and has arguably the most reliable bike out there, which is likely to go the distance.
Michael Rutter, on the other hand, is still not 100% fit after crashing in testing earlier in the year, and he might struggle to make an impact.
His best chance of success will probably come in the Supertwins, in which he finished second behind Ryan Farquhar last year, and set the lap record.
There are a lot of good riders in the field who are still looking for their first North West win such as Easton, Guy Martin, Conor Cummins, Simon Andrews, Gary Johnson and Cameron Donald, and any of those could break their duck this time round.
John McGuinness always goes well in the Superbikes, Bruce Anstey can never be counted out for a few rostrum places, and William Dunlop proved last year that he is a real threat.
A fast bike is a must for the North West and in that respect the manufacturers are fairly evenly matched, although Kawasaki looks to be the machine to be on in the Superstock class.
There are three races scheduled for the Thursday night this year, with five on the Saturday, and in that respect I think the organisers have got it just about right.
It means that they have two stabs at getting some good weather and the riders have a chance to recharge their batteries and sort out any problems with their bikes between race days.
Hopefully we will all be basking in glorious sunshine and enjoying some fantastic racing on the north coast.