North West 200: Stage set for roads speed spectacular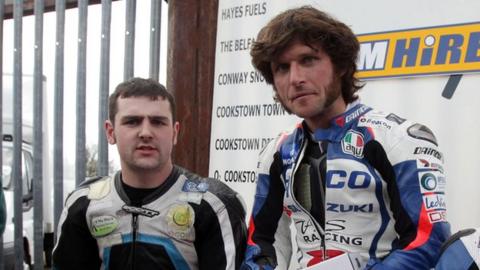 This year's North West 200 looks set to be one of the most closely contested for many years, with the organisers having secured a top quality line-up.
Much attention will focus on the performance of Australian newcomer Josh Brookes, who hopes to transfer his short circuit prowess onto the roads.
Brookes will look to make an immediate impact in the colours of his Moneymore-based Tyco TAS Suzuki team.
British championship regular Karl Harris is another notable debutant.
Alastair Seeley will start as favourite to add to his tally of eight North West wins as he takes in the Superbike, Superstock and Supersport classes.
The Carrickfergus rider will be the main standard-bearer for Kawasaki, having ended his productive association with the TAS Suzuki outfit during the winter.
Also flying the flag for Northern Ireland will be Honda-mounted Michael Dunlop and his elder brother William, who is in the Yamaha camp this season.
Michael has shown promising early season form in the colours of the Honda Legends World Endurance team, and has also enjoyed Superbike doubles at the Cookstown 100 and Tandragee Irish national races.
The 24-year-old has yet to win a four-stroke race at the seaside circuit and will want to make up for a disappointing 2012 North West 200, which failed to yield a podium finish.
William is part of the Milwaukee Yamaha British Superbike outfit and will be a strong contender to add to last year's victory in the Supersport 600 class.
Morecambe's John McGuinness joins Dunlop in the Honda ranks, with his best chance of success likely to come in the showcase Superbike events.
Michael Rutter is joint second with Joey Dunlop on the all-time winners' list with 13, but the Midlands maestro may struggle to add to that total as he continues to recover from an injury sustained in pre-season testing.
New Zealander Bruce Anstey should be a strong challenger for rostrum positions in every class on his fleet of Padgett's Hondas, while England's Simon Andrews has the necessary pedigree, having set the fastest lap ever by a newcomer at the event 12 months ago.
Cameron Donald still seeks the first North West win of his career as he continues in the colours of the Wilson Craig Honda team.
Scot Stuart Easton returns to the nine-mile roads course just two years after a major practice crash on the fast Cromore section of the course almost ended his racing days.
Easton and Seeley are set for a potentially explosive clash in the Supersport races, and the Mar-Train Yamaha star will also take in the Superbike jousts.
Brookes' Suzuki team-mate Guy Martin is another looking for his maiden success on the Triangle circuit, along with his former Lincolnshire school-mate Gary Johnson, who campaigns an MV Agusta in the 600cc category and Hondas in the other events.
Conor Cummins will try to make up for the disappointment of crashing out through no fault of his own at the Mather's Cross Chicane last year as he partners Dunlop in the factory Yamaha squad.
Other visiting riders likely to make an impact include Martin Jessopp, who was clocked at 208mph on the approach to University Corner in 2012, Hampshire-based Kawasaki rider James Hillier, Bradford's Dean Harrison and Australian newcomer David Johnson.
Ballyclare's Jamie Hamilton and Grand Prix veteran Jeremy McWilliams join Rutter in the KMR Kawasaki ranks for the Supertwins, which have two outings this year following the success of the inaugural race in that class last year.
North West 200 practice and race schedule
Tuesday 14 May - Roads close from 09:30 BST to 14:30 for practices.
Practice order - Newcomers, Supersport, Superbike, Supertwins, Superstock.
Thursday 16 May - Roads close from 09:30 to 14:30 for practices and from 17:15 to 21:00 for racing
Practice order - Supertwins, Superstock, Supersport and Superbike
Race order - Supersport (6 laps, 18:00), Supertwins (4 laps, 19:00), Superstock (6 laps, 20:00)
Saturday 18 May - Roads close from 10:00 to 18:30 for racing
Race order - Supersport, Superbikes, Supertwins, Superstock, Superbike