Tyrone unhappy over ticket allocation for Donegal clash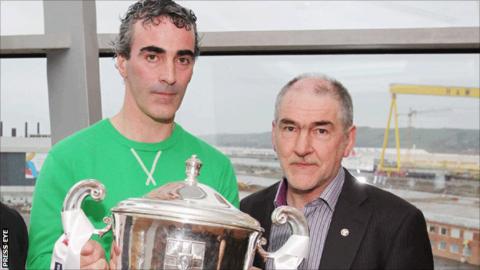 Tyrone officials are unhappy with the county's allocation of tickets for the Ulster Football Championship clash with Donegal at Ballybofey on 26 May.
The Red Hand county has received 5,750 tickets for the meeting with the All-Ireland champions which is believed to be around 1,000 fewer than Donegal.
"We're very disappointed with the allocation of tickets," said Tyrone GAA spokesman Eunan Lindsay.
The capacity at Sean MacCumhaill Park will be capped at 17,500.
Lindsay said only 50 per cent of the county's adult members will have access to a ticket for the game, with no provision whatsoever made for children.
"We are left with one ticket for every two adult members in the county and that's before we even look at youth.
"It's just going to be up to the clubs to allocate them as they decide."
The Tyrone PRO was unable to say whether an appeal will be made to the Ulster Council over the county's allocation.
Earlier this week, Tyrone chairman Ciaran McLaughlin spoke of his disappointment for the thousands of supporters who will be unable to attend the game.
He said he felt the provincial council had missed an opportunity to market the fixture to a wider audience by not switching it to a larger venue.