Jim McGuinness defends Paddy McBrearty over bite claim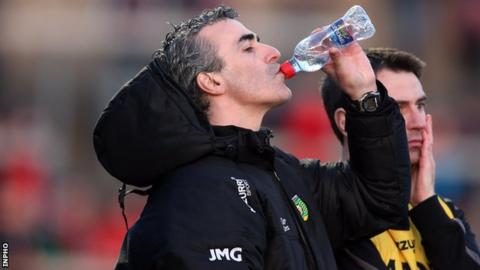 Donegal manager Jim McGuinness has broken his silence over allegations Paddy McBrearty was bitten by a Dublin player during last month's league tie.
McGuinness confirmed his player was bitten by Kevin O'Brien, who escaped a three match ban because McBrearty did not attend a disciplinary hearing.
"Patrick is the victim in this," said McGuinness.
"We wanted him to go (to give evidence) but he is 19 years of age and did not want to go, that's the bottom line."
Donegal were criticised by GAA President Liam O'Neill for not seeing the case through.
However McGuinness believes the Central Hearings Committee should not have needed a personal hearing from McBrearty to charge O'Brien.
"It wasn't up to Patrick in my opinion to win the case for them," he stated.
"They had all the information.
"Our doctor confirmed he was bit. The Dublin doctor confirmed he was bit. The hospital who took him in confirmed he was bit.
"The player in question apologised to him after the game for what he had done.
"We wanted him to go (to the hearing) but he felt he had said everything he had to say and put it in the report what had happened.
"The President of the GAA is a schoolteacher and should know someone of that age is not fully developed and fully mature and doesn't want to get into a court room situation."