Karl Harris takes over Lee Johnston Superstock machine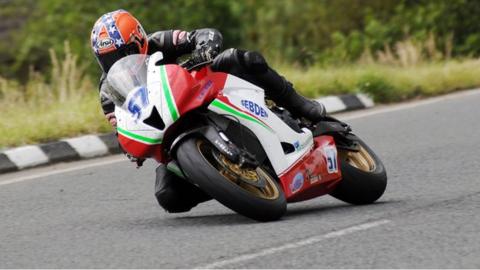 Newcomer Karl Harris is to ride the Ducati Panigale Superstock machine which had been earmarked for Lee Johnston at this week's North West 200.
Harris was in danger of missing the event when the PR Kawasaki team he has been riding for in British Superbikes this year ran into financial problems.
Johnston is recovering from a major crash at Thruxton but hopes to take in the Supersport and Supertwins classes.
The Fermanagh rider was second in the first of last year's Superstock races.
Johnston, who broke his leg in a round of the British Superstock series last month, took part in a test session with the Ballymoney-based Millsport team at Kirkistown on Thursday and will undergo a medical on Monday.
His present degree of fitness will prevent the Hull-based rider from competing on the larger capacity machine.
"We are disappointed that Lee can't ride the bike but we are delighted to have Karl on it now and he has the capability to put in a very strong performance on the Ducati even though it is his first North West.' said team boss Patrick Murray.
"Lee has no pins or anything in the leg and he has been receiving laser treatment as well as visiting a hyperbaric chamber to speed up the healing process.' he explained.
"He was very comfortable, and fast, on both bikes at Kirkistown and if he passes a medical on Monday he will be fit to practice on Tuesday."
Former British Supersport champion Harris will compete in both Superbike races and the two Superstock events on his first appearance at the North West.
"I have never ridden a Ducati before but the Panigale seemed very strong for a Superstock machine," said Harris, 32, after testing the bike at a damp Kirkistown last week.