NW 200: Rain hits Thursday's North West 200 practice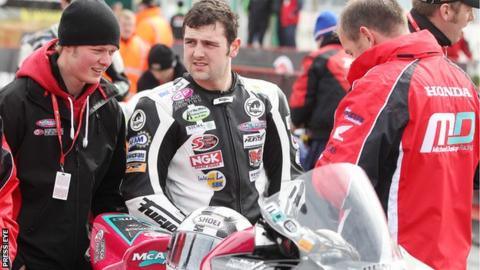 Thursday's practice session at the North West 200 was disrupted by wet conditions on the Triangle circuit.
Rain showers resulted in slow times and little change in the qualifying standings from Tuesday's drier session.
Michael Dunlop has secured pole for the two Superbikes races while Alastair Seeley will start from the front of the second wave of riders.
Seeley was able to set a qualifying lap on Thursday after bike problems in the opening practice session.
John McGuinness (Supersports), Alastair Seeley (Superstocks) and Jeremy McWilliams (Supertwins) topped the times in the other classes.
Michael Dunlop dominated Tuesday's Superbikes practice with the Ballymoney man followed by Bruce Anstey and Guy Martin.
Dunlop again was again comfortably the fastest in Thursday's rain-affected Superbike session as he came in over seven seconds faster than next best Anstey.
Probably the main talking point from Thursday's qualifying was Seeley's unsuccessful attempts to force him into the leading group of 20 riders after he was unable to post a time in Tuesday's session.
Seeley was the third fastest of Thursday's riders but it didn't prove enough to get him in the first group of qualifiers so he will be on the front row of the second group in Saturday's two Superbike races.
Anstey and Martin also complete the top three in the Supersports after their Tuesday times while Seeley is on pole in the Superstocks, ahead of Michael Dunlop and McGuinness.
McWilliams edged out Michael Rutter in the Supertwins class, with William Davidson third.
The weather is expected to improve for Thursday night's Supersport, Supertwins and Superstock races
LEADING PRACTICE TIMES
SUPERSPORT
1. John McGuinness (112.00 mph)
2. Bruce Anstey (111.49)
3. G Martin (111.24)
4. William Dunlop (111.16)
5. Stuart Easton (110.76)
6. Michael Dunlop (110.53)
SUPERBIKES
1. Michael Dunlop (118.21)
2. Bruce Anstey (115.00)
3. Guy Martin (114.68)
4. Dean Harrison (114.15)
5. Josh Brookes (113.87)
6. William Dunlop (113.80)
SUPERTWINS
1. Jeremy McWilliams (104.78)
2. Michael Rutter (104.72)
3. William Davison (104.26)
4. Jamie Hamilton (104.25)
5. Michael Dunlop (103.08)
6. James Hillier (102.96)
SUPERSTOCKS
1. Alastair Seeley 118.05
2. Michael Dunlop 117.24
3. John McGuinness 117.19
4. Bruce Anstey 116.75
5. Gary Johnson 116.68
6. Michael Rutter 116.20
North West 200 race schedule
Thursday 16 May - Roads close from 17:15 to 21:00
Practice order - Supertwins, Superstock, Supersport and Superbike
Race order - Supersport (6 laps, 18:00), Supertwins (4 laps, 19:00), Superstock (6 laps, 20:00)
Saturday 18 May - Roads close from 10:00 to 18:30 for racing
Race order - Supersport, Superbikes, Supertwins, Superstock, Superbike