NW 200: Alastair Seeley dominates opening night of racing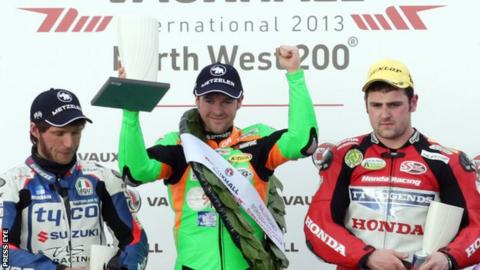 Alastair Seeley dominated Thursday's opening night of racing at the North West 200 as he took two victories with Jeremy McWilliams also earning a win.
Seeley produced a brilliant last lap to snatch victory over Michael Dunlop in Thursday's opening Supersport race.
Carrickfergus rider Seeley then held off a strong challenge from Bruce Anstey to win the Superstock event.
In between, former MotoGP rider Jeremy McWilliams, 49, earned his first North West win in the Supertwins race.
Seeley, after struggling in qualifying, was in the second group of riders in the opening Supersport race but produced a last-lap charge to grab first place on corrected times by 1.3 seconds.
British Supersport Championship leader Seeley caught leaders Anstey and Gary Johnson on the fourth lap of the Superstock event and held off a renewed challenge from the New Zealander to bring up his haul of North West 200 victories to 10.
Johnson held on for third to take his first ever North West 200 podium finish with Guy Martin, Dubliner Derek Shiels and Conor Cummins completing the top six and debutant Josh Brookes in seventh place.
Dunlop led Seeley by seven seconds after two laps of the opening Supersport race and still had a 5.5 second advantage at the start of the final lap before being overhauled by his fellow Ulsterman.
Guy Martin completed the Supersport podium spots although he was almost 25 seconds behind Seeley with Anstey, Stuart Easton and Dean Harrison completing the top six.
HM Plant/Padgett's duo John McGuinness and Anstey had occupied the top two positions in qualifying but were quickly passed by Dunlop on the first lap.
With the Supersport race reduced to five laps because of the wet conditions, Anstey nearly came to grief in the opening seconds of the race as he endured a terrifying wobble before regaining grip.
Dunlop suffered a similar moment at Juniper Hill near the end of the fourth lap but still looked set to clinch victory as he started the final circuit.
However, Seeley's late burst stunned Dunlop as the Kawasaki rider snatched victory despite coming into the finish some 20 seconds after the Ballymoney man.
Seeley, 33, seemed as surprised as anybody that he had managed to overhaul Dunlop.
"The last lap didn't feel as though it was my fastest lap out there," said the Carrickfergus man.
Dunlop looked crestfallen after his last-gasp defeat but refused to make any excuses.
"If you're beaten, you're beaten. There's nothing I can do," added the 24-year-old.
"Over the last couple of laps, the tyres were starting to go."
Another Northern Ireland man William Davison battled with KMR/Kawasaki rider McWilliams for most of the Supertwins race before sliding out late on the penultimate lap at Black Hill.
At the end, former MotoGP winner McWilliams was .86 seconds ahead of Englishman James Hillier with another KMR rider Jamie Hamilton in third while Davison was unscathed after his spill.
Ivan Lintin, Lee Johnston and Michael Rutter completed the Supertwins top six with Dunlop, after his opening Supersport disappointment, never a factor in the race.
THURSDAY'S RESULTS
SUPERSPORT
1. Alastair Seeley
2. Michael Dunlop (1.312 secs)
3. Guy Martin (111.24)
4. Bruce Anstey (38.560)
5. Stuart Easton (40.727)
6. Dean Harrison (42.044)
SUPERTWINS
1. Jeremy McWilliams
2. James Hillier (.864)
3. Jamie Hamilton (1.582)
4. Ivan Lintin (3.340)
5. Lee Johnston (25.064)
6. Michael Rutter (32.069)
SUPERSTOCK
1. Alastair Seeley
2. Bruce Anstey (0.274)
3. Gary Johnson (16.679)
4. Guy Martin (20.583)
5. Derek Sheils (23.036)
6. Conor Cummins (23.422)
North West 200 race schedule
Saturday 18 May - Roads close from 10:00 to 18:30 for racing
Race order - Supersport, Superbikes, Supertwins, Superstock, Superbike