Great summer of action lies ahead on BBC's Championship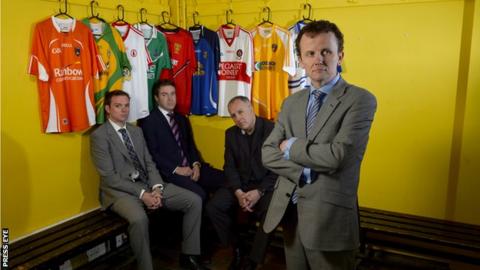 "Thomas what's the craic with the BBC's GAA coverage this summer?"
It's a question I'm asked many times. So here it is.
The GAA have a catchy saying these days 'Nothing beats being there' and it's true. But there will be occasions throughout the summer when you simply can't be there. If you're one of those people, then this is what you want to know
COVERAGE
Seven of the eight Ulster Championship matches will be live on BBC television. All eight will be on radio, plus the qualifiers.
From the quarter-finals right through to the All-Ireland final- if there's an Ulster team involved- BBC TV and Radio Ulster will be there.
The only game not live is Antrim v Monaghan and that is because contractual restrictions mean we are not allowed to show the 9 June live. However, we will be showing extended highlights of the game on that Sunday night at 19:00
PUNDITS
Last week I was at Ballinderry Shamrocks 'Fight Night' and was approached by two well-known clubmen who were talking about a particular pundit.
"Tommy, I think he's brilliant, calls it how it is and that's what I like."
The other man said: "I don't really like him, actually I can't stand listening to him."
The reality is we all like different things in punditry. I have come to understand you cannot please everyone. Good analysis is a skill, it looks easy but I can assure you it's not. The game changes - and we hope our punditry at the BBC reflects that.
Across BBC TV and radio this year, we will be introducing some new faces. Owen Mulligan with his three All-Ireland medals, and the man who's scored more championship points than any other Ulster player Paddy Bradley, will be joining Jarlath Burns and Martin McHugh in the TV studio. There are more new faces to come as the Championship progresses.
As for Radio, Enda McGinley will join the team along with Paddy Bradley.
It is a team that already includes Steven McDonnell, Brendan Devenney, DJ Kane, Oisin McConville, Adrian McGuckin and Brian Canavan. Again, watch out for a few surprising new voices throughout the summer.
COMMENTARY
Television commentary will be provided by Mark Sidebottom and my good self. Mark will be covering the bulk of them. Oisin McConville will be on on co-commentary - but alongside me will be a couple of new voices, again watch this space!
On radio, Owen McConnon and Brian Canavan will be on commentary, while myself and one or two others will be on duty during the qualifier weekends.
The BBC pundit team, along with others, will be used as co-commentators and that will depend on what the game is.
Last year we used Aaron Kernan and Eoin 'Bomber' Liston. Both added greatly to our coverage and there will be more new faces in 2013.
It all starts this Sunday. Can't wait!