No holding back Owen Mulligan as he joins BBC's championship team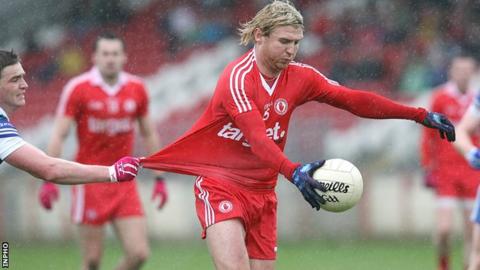 He may be a reluctant spectator as the Ulster championship gets underway, but Owen Mulligan is looking forward to a new challenge in the BBC Sport NI studio this summer.
Undoubtedly, the three-time All-Ireland champion and former All Star would prefer to be in the thick of the action, preparing for Tyrone's showdown with Donegal on 26 May in Ballybofey.
But in the absence of a phonecall from Mickey Harte recalling him to the panel, he will be trying his hand at punditry over the coming weeks.
"I got a call from the BBC and thought it would be a great opportunity," he said.
"I don't think I'm in Mickey Harte's plans so I thought I would go for it.
"I haven't retired from Tyrone. If Mickey Harte comes looking me, I'll definitely go back.
"But you're always watching The Championship and I always thought it would be great to be on it some day and give your views."
Mulligan captained Cookstown to the All-Ireland intermediate club title in Croke Park in February.
He had hoped to resume his inter-county career after that and despite attending two in-house trial games at the request of the Tyrone manager, he has yet to be brought back into the set-up he has been a part of since he was 16 years old.
"It's disappointing alright not to be playing for Tyrone but every footballer has to stop sometime.
"I'm coming 32 and maybe it's time to give somebody else a go.
"They seem to be going all right without me. They got to the league final, and I would say they'd have won it if Stevie (O'Neill) had been playing."
Harte has drafted in Conor McAlliskey, Darren McCurry and Ronan O'Neill to aid Tyrone captain Stephen O'Neill in the full-forward line.
With Kyle Coney also back after missing last year's championship through injury, Mulligan accepts that the array of talent on offer has edged him out of a spot in the squad.
"They are going with the youth and they have plenty of good forwards to replace me.
"Perhaps Mickey was too loyal to the older players, including myself. You do still need some experience in there but they definitely seem to be going in the right direction.
"If they keep winning, you can't really argue with the man."
If his punditry skills are anything like his dazzling ability on a football field, then viewers will be interested in his predictions over the next few weeks.
He is backing Armagh to beat Cavan on Sunday, Tyrone to beat Donegal, and for the old rivals to meet in the Ulster final on 21 July.
"I think Armagh have lost the fear factor - they used to have a lot of teams beat before they went out.
"Paul Grimley will want to instil that in them again.
"Cavan have had a lot of underage success but you have to convert that into senior success, like we did in Tyrone. Those young boys have to step up and until they do, there are question marks over Cavan.
"Armagh still have boys like Aaron Kernan and Ciaran McKeever and I don't think playing Ciaron O'Hanlon at centre-forward is a gamble at all.
"He played against Cookstown for Killeavey in the Ulster club quarter-final and he caused us a lot of problems when he came on.
"Paul Grimley says it wasn't a hard choice to pick him despite his young age and I think he will do well."
Mulligan believes that getting relegated was a big blow to Donegal and expects Tyrone to gain revenge for the two Ulster semi-final defeats they suffered to Jim McGuinness's side in the past two years.
"Jim took the exact same team Donegal team that had been there for a number of years, got inside their heads and turned them into All-Ireland champions in two years, so he's obviously good at the psychology!
"If he says there is nothing wrong with getting relegated the year after winning the All-Ireland, then we will have to take his word for it.
"But I have been really impressed with Tyrone.
"There was big talk about Dublin but Stevie O'Neill is worth about five points to Tyrone and if he hadn't picked up that freak injury, Tyrone would be sitting with a national title now.
"Conor Clarke, Mattie Donnelly and Niall Morgan in particular has impressed me. He is some addition to Tyrone football. And if Kyle can force his way back into the team, I'm expecting a big year from him."
James Kielt and Gerard O'Kane are among the players 'Mugsy' feels will help Derry to a victory over Down on 2 June in Celtic Park.
"That should be a great game, it's a hard one to call," he said.
"Brian McIver taught me (in St Pius' Magherafelt) and Paddy Tally trained Tyrone to the 2003 All-Ireland so those boys know what they're talking about. I think they will have Derry ready for this one.
"You can never write off Down. They are keeping things low key and when a team is keeping quiet, that's when you need to be worrying about them. But I still fancy Derry to come through."
He is tipping Monaghan to beat Antrim and although his old sparring partner Peter Canavan is in charge of Fermanagh, still expects Armagh to defeat them in a potential quarter-final on 16 June.
"I think it will be back to the good old days of a Tyrone v Armagh final and Tyrone are my tip to win Ulster."