Christy Ring Cup: Down 3-7 0-9 Derry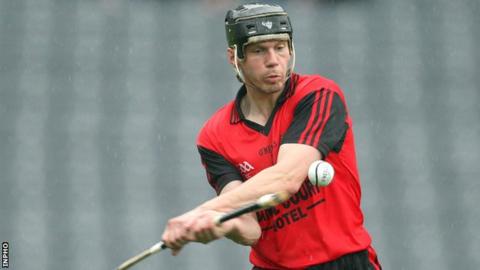 Three second-half goals gave Down a Christy Ring Cup victory over Ulster rivals Derry at Pairc Esler.
The teams went in level at 0-5 apiece at the break on a sodden pitch before Down keeper Stephen Keith tipped wide a penalty from Alan Grant.
Paul Braniff drilled in the first goal against the run of play and Michael Turley hit the net seconds later.
Paddy Hughes missed a second Derry penalty before Jonny McCusker sealed Down's win with an injury-time goal.
Danny Toner went close to netting on 29 minutes but a spectacular save from Daral McDermott in the Derry goal meant the corner forward had to settle for a point.
Derry were awarded a penalty on 40 minutes when Aaron Kelly was hauled down in the small square - Grant struck the penalty but Keith expertly pushed his effort wide to safety.
The Oak Leafers were in the ascendency and Oisin McCloskey pointed a long-range free to put them into a deserved lead.
Down struck the game's first goal on 48 minutes when Braniff sent a free on the 21 metre line into the top corner to give the Mourne men a lead they scarcely deserved.
Within 45 seconds of their first goal, Down scored a second - a long Scott Nicholson ball was played into the square and substitute Turley managed to flick the ball beyond the onrushing McDermott and into the net.
Derry were somewhat fortunately awarded a second penalty on 63 minutes when Brendan Rodgers was judged to have been held in the small square.
Kelly took the penalty but he could do not better than Grant with Paddy Hughes turning his shot away at the left-hand post.
Down finished the match with a third goal when Fintan Conway sneaked in behind the Derry defence and flicked the ball sideways to substitute McCusker, who shot into the empty net.
Down now face Meath in the next round of the competition.
Down: S Keith; M Conlan, P Flynn, P Hughes; C Coulter, B Toner, D Hughes; M Ennis, C Woods; S Nicholson (0-1), P Braniff (1-3, 2f), K McGarry; D Toner (0-1), G Johnston (0-1), J Coyle.
Substitutes: C Flynn for C Coulter (40 mins), M Turley (1-1) for K McGarry (46), F Conway for S Nicholson (65), E Clarke for D Toner (69), J McCusker (1-0) for J Coyle (70).
Derry: D McDermott; M Warnock, R McCloskey, J McCloskey; P Kelly, L Hinphey, C McSorley; M O'Hagan, O McCloskey (0-1, f); A Grant, A Kelly (0-1), K Hinphey (0-1); P Henry (0-4, 2f), B Rodgers (0-1), S Farren.
Substitutes: B Quigley for S Farren (43 mins), T McCloskey (0-1) for M O'Hagan (50), P Cleary for P Henry (59), C Convery for A Grant (69).
Ref: David Hughes