Ulster SFC: Hyland delighted with Cavan display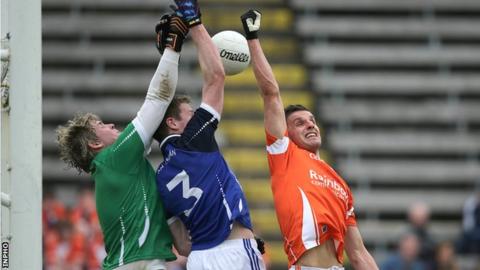 Cavan manager Terry Hyland praised his players after the impressive 1-15 to 1-11 win over Armagh in the Ulster SFC premilinary round game on Sunday.
"I was pleased with our workrate and honesty - we made mistakes but we recovered from them," he said.
"We were going well in training and the lads didn't give up. It's still May and only the preliminary round but it's great to get a win over Armagh."
Brewster Park will host Cavan's first-round game with Fermanagh on 16 June.
This was confirmed by the Ulster Council after Sunday's game despite earlier suggestions that a Fermanagh-Cavan contest might have to be moved away from the Enniskillen venue because of security arrangements around the G8 summit at the Lough Erne Resort.
Cavan forwards Martin Dunne and Eugene Keating were a constant menace while the hosts gained confidence from Cian Mackey's first-half goal.
"We knew that Armagh push up in waves and we could use that opening at the back to get quick ball up to the two inside forwards," added Hyland.
"The goal gave us confidence - we had made a few nervous mistakes prior to that but we stopped doing so after the goal and started believing in ourselves that little bit more."
It was a championship debut to remember for Dunne, who was named man-of-the-match after scoring nine points.
"It's always nice to get a few scores but it's the lads out in the field doing the work and it is my job to stick it over the bar," he said.
"It has always been a dream to play in the championship for Cavan - it's what you want to do when you are a young fella, so this makes all those hours training worthwhile.
"Although we are a young group of lads, our feet are on the ground and in this game we stepped up to the plate."
Armagh boss Paul Grimley acknowledged at Cavan "fully deserved" their victory but defended his decision to opt for a man-to-mark marking approach in Sunday's game as opposed to operating with a sweeper.
"You've got to give credit on to to Cavan. On today's performance the best team won, there's no doubt about that," Grimley told BBC Sport.
"Whenever you set your stall out from the start of the year to do this, there wouldn't be much to me as a manager to turn around after 35 minutes of a championship match and abandon it.
"I was never prepared to do that and I didn't do that.
"While it maybe was obvious (to some people) to bring a sweeper into the equation, my belief is no.
"My belief is that man to man, they have got to take responsibility for their own man. If that is not the case, then I will get someone who can."
Grimley did acknowledged his "confusion" at referee Maurice Deegan's decision to rule out a Jamie Clarke 'goal' in the second half with the official taking play back after blowing for a foul on the Crossmaglen man a split second before the shot.
"There was a similar decision in the minor game and it (the goal) went ahead. In the senior game, it was brought back.
"But I don't think was a turning point in the game at all. By and large, we didn't perform to the way we were expected to."