Isle of Man TT: Third qualifying session cancelled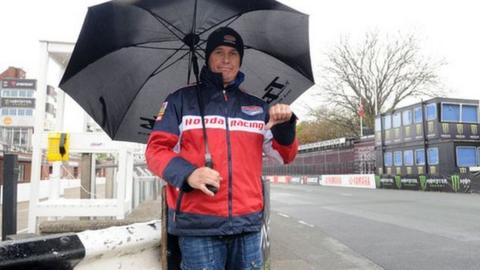 The third qualifying session for the Isle of Man TT races was cancelled because of poor weather conditions.
The original 18:20 BST start was put back as the clerk of the course allowed extra time to see if the rain stopped.
Following two inspection laps with rider liaison officers, Gary Thompson made the decision to cancel the session at 18:35 BST because of the wet roads.
Qualification will continue on Wednesday at 18:20 BST.
Competitors have three more sessions before Saturday's opening Superbike race.
Dave Maltby from the island's meteorological office said the weather is "perking up" ahead of Wednesday's session.
He said: "The weather is perking up quite nicely and we should have dry conditions and a moderate north easterly breeze. It should be warm".
The session will open with Superbike practice followed by Superstock, Supersport and newcomers. The sidecars will end the session at around 20:00 BST.