Michael Dunlop clinches second victory at Southern 100
Last updated on .From the section Northern Ireland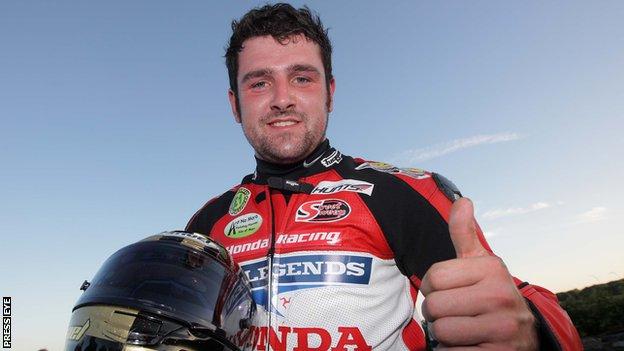 Ballymoney's Michael Dunlop clinched his second win at this week's Southern 100 as he edged out Guy Martin in the Senior Race at the Isle of Man meeting.
After winning Tuesday's 600/1000cc event, Dunlop had to battle hard before overhauling Martin on the penultimate circuit of Wednesday's eight-lap race.
Dunlop came in two seconds ahead of Martin with Dean Harrison in third.
Harrison won Wednesday's Supersport race ahead of Martin with Jamie Hamilton winning the Supertwins event.
As had been the case in Tuesday's win, Dunlop was riding a Honda TT Legends Fireblade machine in the Senior event.
Dunlop set an event race record of 18 minutes 16.617 seconds with Harrison producing a race lap record of 113.461 mph as he took the final podium spot.
The Northern Irishman passed long-time leader Martin on the seventh lap as the riders got caught up in backmarkers on the Billown circuit.
The top six was completed by Ian Lougher, Hamilton and Russ Mountford.
Dunlop had to be content with third place in the Supersport race won by Harrison.
William Dunlop led the race until running wide on the fourth lap which allowed Martin and Harrison to get past him and Dunlop eventually retired on the final circuit.
The Supersport race saw Michael Dunlop's previous lap record of 108.464 mph broken by his brother and Harrison before Martin eventually produced the fastest circuit with a 110.306 clocking.
However, that didn't prove enough to overhaul Harrison on the final lap.
Hamilton, meanwhile, finished ahead of Harrison in the Supertwins race with Callum Collister and Ian Lougher winning the 400cc and 125cc classes respectively.
Michael Dunlop, who completed a clean sweep of five wins at the Isle of Man meeting last year, finished almost four seconds ahead of Bradford's Dean Harrison.
Martin from Lincolnshire, was the early leader in Tuesday's eight-lap race but finished third on his Tyco Suzuki with Hamilton fourth for the KMR Kawasaki team.
Dunlop, who won four out of five races at the 2013 TT races, broke the lap record on the Billown cricuit on his way to winning Tuesday's race.
His brother William won the 600cc category on a Yamaha R6, and was eighth in the overall standings.