Bruce Moulds killed in crash at Walderstown road races
Last updated on .From the section Northern Ireland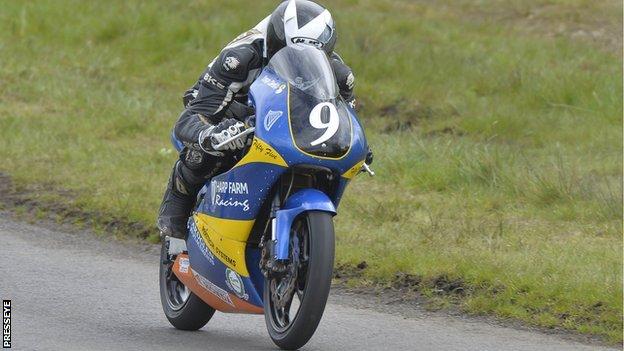 Hillsborough rider Bruce Moulds has been killed following a crash at the Walderstown road races in Westmeath.
The 20-year-old was competing in the 125cc race when the accident happened.
Moulds was airlifted to Beaumont Hospital in Dublin on Sunday, but later died from his injuries.
William Dunlop claimed a hat-trick of victories at the meeting, taking wins in the Open Race, the Grand Final and the 250cc event, also setting a new course record for the two-mile circuit.
Dunlop was riding the Milwaukee Yamahas on which he will compete at the Armoy road races and the Ulster Grand Prix.
William's younger brother Michael was scheduled to take part, but withdrew on Saturday morning because of illness.
Derek McGee was second in the Open race, with Derek Sheils third, while in the Grand Final, Sheils improved to take the runner-up spot, with Michael Pearson from Lisburn completing the podium.
McGee won an exciting 600cc race from Jamie Hamilton and Dunlop, Hamilton took the Supertwins honours and Seamus Elliott was the 125cc winner.
Dunlop now holds a record 11 wins at the Walderstown races and a new lap record of 106.556mph.
But the meeting was overshadowed by the death of Moulds, who had finished second behind Elliott at the recent Skerries 100 meeting.
"It is a great tragedy and our thoughts at this time are with Mr Moulds' family," said clerk-of-the-course Sean Bisset.
The fatality completes a horrific week for road racing, with three competitors having died at last week's Southern 100 races on the Isle of Man.