Ulster Football Final: Monaghan 0-13 0-07 Donegal
Last updated on .From the section Northern Ireland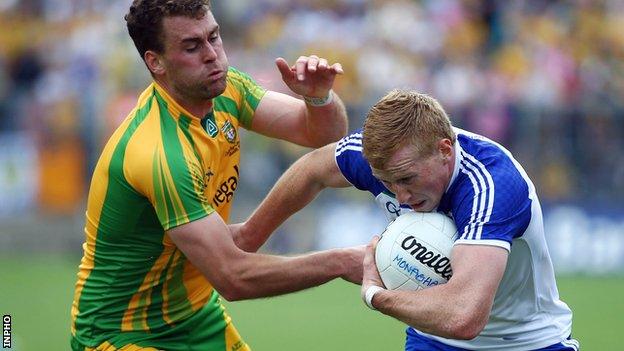 Monaghan caused a huge shock as they produced a performance of remarkable intensity to stun All-Ireland champions Donegal in Sunday's Ulster SFC final.
Donegal were odds-on favourites going into the game but the hungry Monaghan men clinched a comprehensive win.
The fired-up Farney men hit the opening five points although Donegal struck the last two points of the first half.
Donegal never got closer than three in arrears in the second half as they were unable to match Monaghan's desire.
The victory, which came after the county's earlier dramatic minor triumph, earned Monaghan their 14th Ulster title but their first Anglo Celt Cup triumph since 1988.
It was difficult to pick out individuals in a wonderfully committed Monaghan performance but Kieran Hughes stood out in attack with Owen Lennon, Darren Hughes, Dessie Mone magnificent in the middle third of the field and Drew Wylie and Colin Walshe absolutely outstanding in defence.
But in truth, all the Monaghan men performed heroics as their insatiable appetite made the Donegal players appear leaden-footed.
Wylie marked Colm McFadden out of the contest with Walshe shackling Patrick McBrearty and Michael Murphy also not a factor in the contest.
Donegal did kick more than 10 wides but several of those misses can be attributed to the incredible pressure created by Monaghan's tackling.
Karl Lacey did play for the full 70 minutes for Donegal but after his injuries of the last six months, he was unable to make the kind of impact that was such a crucial aspect of the county's march to the All-Ireland title last year.
Amid high emotion after the final whistle, Monaghan players Conor McManus and captain Lennon correctly spoke of how "not one person in the country" had tipped the Farney men to defeat the All-Ireland champions.
That wasn't strictly true as in their next breaths, the Monaghan duo spoke of how "we knew we could do it".
But one knew what they were getting at. Indeed, rarely can so many pundits have been so utterly wrong in calling a sporting contest.
Before the game, Donegal boss Jim McGuinness had emphasised his respect for the Farney squad and his worries over their "ferocious hunger".
But in spite of those words, perhaps the expectation of a facile Donegal success did feed into the sub-conscious of the All-Ireland champions.
That is probably unfair to the Monaghan players but there was no getting away from the sense that the Donegal players were heavy-legged.
Monaghan came out fired up and were four points up by the ninth minutes after scores from Darren Hughes, keeper Rory Beggan, Conor McManus and late selection Padraig Donaghy.
After their slow start, Donegal suffered a further blow in the ninth minute when the influential Mark McHugh was forced off following an accidental collision with Stephen Gollogly.
Monaghan, as they continued to dominate, wasted further opportunities as Kieran Hughes and Vinny Corey fired bad wides.
But Hughes was conclusively winning his battle with Eamon McGee and the Donegal half-back line were labouring as Monaghan ran at them.
Neil Gallagher's introduction at midfield briefly steadied the Donegal ship as late replacement Martin O'Reilly was withdrawn after only 23 minutes.
And there was more than a suspicion that Monaghan might pay for their missed chances as the holders finally opened their account thanks to a McFadden free in the 31st minute with Frank McGlynn then scoring in injury-time.
But Monaghan were having none of it as Kieran Hughes notched the opening score of the second half after Donegal's half-time substitute Ryan McHugh had cleared a high ball off the line.
Youngster McHugh cut Monaghan's lead to three with a fine finish in the 43rd minute but Monaghan were five up by the 44th minute after two more points from the inspired Hughes.
Ryan Bradley and McFadden missed straightforward chances to cut into Monaghan's lead as Donegal continued to misfire.
Two McFadden frees were split by a superb point from play by the energetic Mone as Donegal couldn't get within sight of Monaghan's lead.
Donegal were forced to resort to lumping high balls into Murphy but they didn't get the break they wanted although the full-forward did go close on the hour as he volleyed just wide with his back to goal.
The holders were only four points down with five minutes left but there was no sense that a comeback was on - such was Monaghan's assuredness.
Jim McGuinness shook Malachy O'Rourke's hand two minutes before the final whistle as keeper Beggan and late sub Tommy Freeman added further points in injury-time.
The victory puts Monaghan into the All-Ireland quarter-finals while Donegal must regroup for next weekend's qualifier clash against Laois.
Donegal: P Durcan; P McGrath, N McGee, E McGee; A Thompson, K Lacey, F McGlynn (0-1); R Bradley, R Kavanagh (0-1); M McHugh, L McLoone, M O'Reilly; P McBrearty, M Murphy, C McFadden (0-4). Subs: David Walsh for McHugh, N Gallagher for O'Reilly, R Wherity for McLoone, R McHugh (0-1) for Walsh, M McElhinney for Bradley
Monaghan: R Beggan (0-2), K Duffy, D Wylie, C Walshe, V Corey, N McAdam, D Mone (0-1), O Lennon, D Hughes (0-1), P Finlay, S Gollogly, D Malone, P Donaghy (0-1), K Hughes (0-3), C McManus (0-3). Subs: G Doogan for Gollogly, D Clerkin for Doogan, C McGuinness (0-1) for Malone, T Freeman (0-1) for McManus