London target biggest upset of them all

By Thomas Niblock
BBC Sport NI
Last updated on .From the section Northern Ireland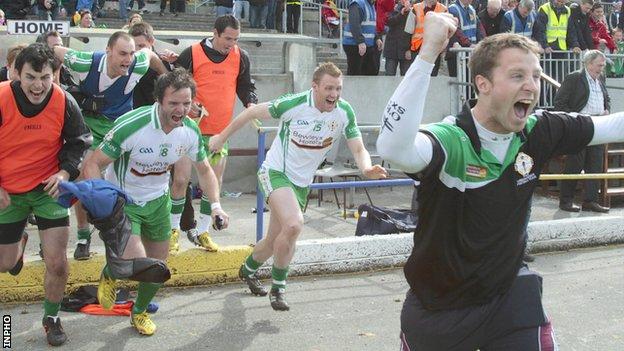 Picking the greatest sporting upset of all time is more difficult than I first imagined.
So much choice, too many sports to consider. But after trawling the internet and picking my friends' minds, I've come to a conclusion.
If London defeat Mayo in the Connacht SFC final this weekend, it will be the biggest upset ever.
There are plenty of big upsets to compare? In 1990, Buster Douglas knocked Mike Tyson out in the 10th round - big surprise.
Sports Illustrated named the 'Miracle on Ice' as the Top Sports Moment of the 20th century. It's hard to argue with.
During the 1980 Winter Olympics the USA team, made up of amateur and college players, defeated the Soviet team, who had won almost every world championship and Olympic tournament since 1954.
Greece winning Euro 2004 is something a little more recent, and let's not forget about the lob, the roll, the Rose Bowl. Ray Houghton skipping past Franco Baresi and leading the Republic of Ireland to World Cup success over Italy.
Hard to believe that was 19 years ago.
One more. Last month at Wimbledon, Rafael Nadal was 1/500 to win his first round match with Belgian Steve Darcis, ranked 135 in the world.
Ladbrokes did not even take a single bet in the UK on Darcis winning. A cert. 1/500. Coincidence or not, it's the same price Mayo are to beat London this weekend.
Scratch a little deeper into Boris Johnson's boys and you realise that the recent success of the London GAA team, including wins over Sligo and Leitrim on the way to the Castlebar decider, is more that just an underdog story.
For the past three years I've travelled to London and Ruislip covering the improving fortunes of their gaelic footballers.
Like almost the entirety of the team, my two brothers emigrated to the English capital for work reasons and one of them played for London last year.
That four-lettered word 'work', the foundation on which London's success has been built.
"There were pretty much no job opportunities at home when I graduated," said Gary Magee from Rostrevor
Dundalk man Graham Carr: "I'm here indefinitely. It was the opportunity that exists here that brought me."
Caolan Doyle from Derry put it simply: "There was practically no chance of me getting a job at home."
Doyle's story is a fascinating one. The 24-year-old is from the Derry Trasna club in Derry city. A junior club in a city where soccer is king.
"I'd never any real ambition to play for Derry, to be honest I was more into soccer growing up," he said
"I've never represented Derry at minor, U21 or any grade, nor am I likely to.
"I'm due to leave London in September to take up a post in Qatar, so realistically this is it for me in terms of gaelic. It's my big chance and could be my last one."
Doyle's story is a familiar one. Come to London for a year or two, move on or return home.
He added: "I can't imagine going home. These are tough economic times both north and south - teachers aren't left out in that regard.
"My prospects? A bit of maternity cover, maybe a bit of subbing, but that's it. If I want to work, there's no point in going home."
Qatar awaits the midfielder but most of the London squad is staying put, and it's helping the development of Paul Goggins' chaps.
"We've a bit more stability. In the past, 10 to 15 players would have joined, and then the same number would leave the following year - it was very difficult for London to build." said the London manager.
Only three survive from the squad five years ago. Now players are realising London is a long-term move and it's benefiting the GAA in Ruislip at all levels.
The Feile was held in Derry last month, a wonderful weekend where the best U14 teams from Ireland and beyond compete.
South London annihilated everyone and cruised to the Division Four title. They won Division Five in 2010 and next year they will compete in Division Three.
North London reached the semi-final of Division Five, losing to Clonmel of Tipperary, who won the competition.
Both London teams are filled with English boys and young gaelic footballers of African descent.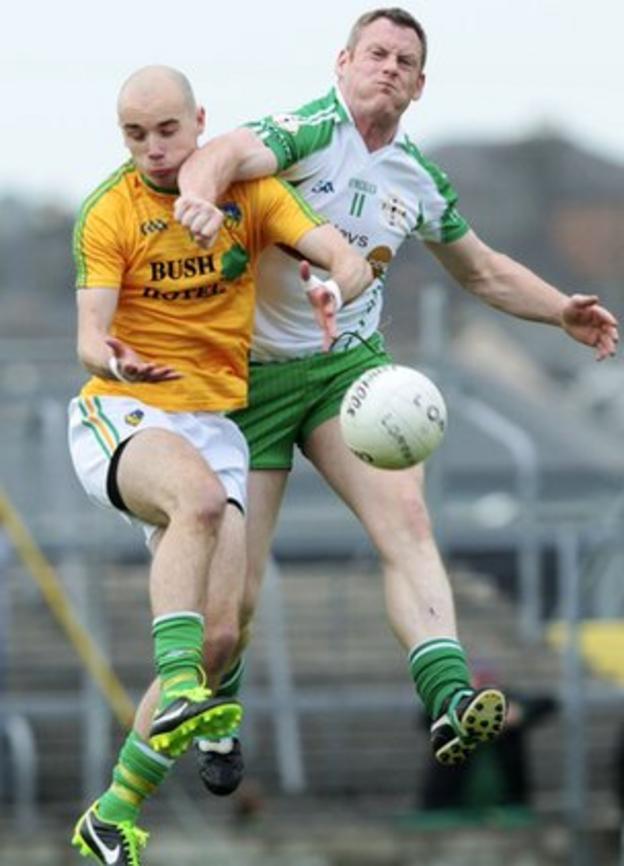 Dave McGreevey, a Down man working in recruitment in London, thinks it's the future template for success.
They call him Bonzo. You couldn't miss him - he has a spectacular pair of florescent boots. "I'll be wearing these surely in Castlebar, class."
He has a dream for London.
"In 10 years time I'd love to see a team made completely of English people," added McGreevey.
"It's a good enough sport not to depend solely on Irish people playing it over here. Most of the kids playing GAA in schools are from different nationalities.
"The minority of kids playing gaelic football here are from Irish descent, and it would be great to see a team which doesn't have that Irish connection."
Bonzo's team-mates were surprised at the seriousness of his remarks. No smart comments. No jokes. Maybe he was feeling the pressure of a Connacht final.
He added: "No pressure Thomas. None. I read the Evening Standard every day going home on the train, that's the only thing I read and I've yet to read anything about GAA in it.
"The woman (his English girlfriend) doesn't even ask me about it, none of my friends (they are English too) ask me about it. There's absolutely no pressure."
That no pressure thing seems to be working a treat.