Jim McGuinness demands more protection for Donegal players
Last updated on .From the section Northern Ireland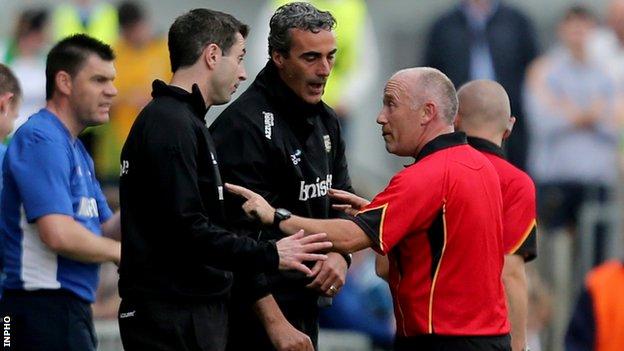 Donegal manager Jim McGuinness has demanded that his players receive more protection from referees.
Speaking after Saturday's win over Laois, the Donegal boss made clear he was very unhappy at the injury suffered by Mark McHugh in the Ulster Final.
McGuinness added that he feared that one of his players could suffer a "very serious injury".
"That is my biggest fear... that there is going to be a spinal cord or neck injury," McGuinness told RTE Sport.
"I think that is a very real possibility the way players being targeted coming up the field.
"It's something I would really like to see eradicated from the game. And if it's not, we have a very dangerous situation."
McHugh sustained concussion, a perforated eardrum and a quad muscle tear as a result of a collision with Monaghan's Stephen Gollogly in the early stages of the provincial decider.
Some pundits, having viewed the video, believe the incident shows two players honestly challenging for the ball but McGuinness was angered by the injury sustained by one of his key players.
"I wouldn't be happy that one of my players ended up with a busted eardrum, that they were knocked unconscious and that they had a five centimetre - not milimetre - hole in their quad as a result of an impact.
"That is tough. He should have been playing with us tonight.
"It's our fourth concussion in three games in the championship.
"There's a lot of stuff going on from our point of view that we would like looked at and hopefully in the coming days it might be."
McGuinness and his assistant Rory Gallagher were involved in a sideline dispute with the Laois management during Saturday's game.
Laois manager Justin McNulty claimed that the Donegal boss had been attempted to "intimidate" the linesman but McGuinness insisted that he had reacted to Michael Murphy being "taken out" by one of the opposition.
"The incident came from the fact that Michael Murphy was third-mark tackled out of the game," insisted McGuinness.
"Something similar happened to Mark McHugh last week.
"This is a common theme at the moment.
"What do you do? Do you stand there and watch it or do you try and bring it to the attention of the linesman?
"As management you have a duty of care to your own players."
McGuinness's side face Mayo in the All-Ireland Quarter-Finals at Croke Park on Sunday in a repeat of last year's All-Ireland Final.