Terry Hyland unsurprised by Cavan All-Ireland last eight spot
Last updated on .From the section Northern Ireland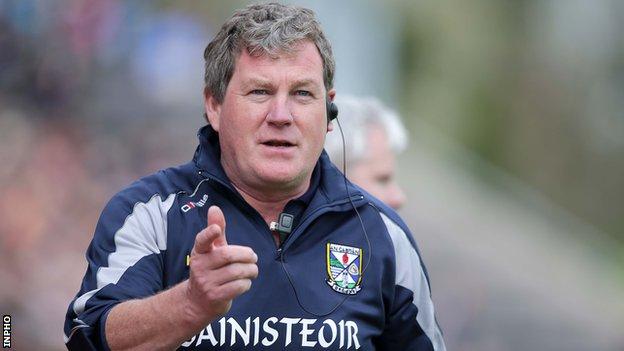 Terry Hyland says Cavan's progression to the All-Ireland Quarter-Finals is "no surprise" to him and he believes his team are capable of beating Kerry on Sunday at Croke Park.
"We fully expected that we would go well in the Championship this year," Hyland told BBC Sport.
"If Derry were going to play Kerry next week, people probably wouldn't be saying that it's a foregone conclusion.
"I think we are good enough to beat Kerry if we play to our full ability."
Hyland added:"We have beaten Derry and we deserve to be where we are.
"Now we are going to be playing Kerry who are a very, very good team but we all want to go out and give a good display."
Perhaps burdened by favouritism, the Breffni County struggled for long periods of Saturday's last-12 encounter against London before eventually subduing the Exiles.
Hyland believes that there may have been some tiredness in the Cavan legs following the extra-time win over Derry at Celtic Park a week earlier.
"A few of the lads said that they felt very leg heavy particularly in the first half," added Hyland.
"It probably was a combination of a lot of things. We had two good goal chances (in the first half) when we were four or five points up.
"If we had got those maybe the gates would have opened a bit sooner for us.
"But in fairness we corrected it at half-time and kept London to two points in the second half."
Hyland insists that he always believed that his team would be involved in Championship action on the first weekend of August but thought that they would get there via an Ulster Final appearance.
"We probably expected to get to an Ulster Final.
"I thought we would go well because you just get that feeling from the players.
"They have been working very hard all year and you just get that feeling from seeing them in the training games.
"Probably we changed the culture a little bit in going down the road of keeping a large panel and working among ourselves rather than the challenge game route.
"That has brought fellows on a lot and made them more competitive."