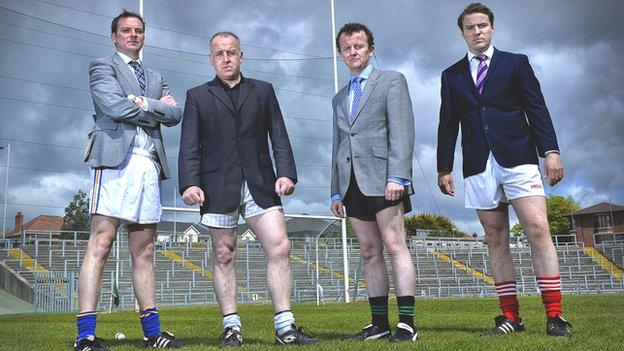 On the biggest weekend of Gaelic games in 2013 to date, BBC NI Sport has confirmed it will broadcast three of the four All-Ireland quarter-finals live across television and radio.
The first of the trilogy sees Ulster provincial champions Monaghan take on neighbours Tyrone at Croke Park on Saturday at 17:00 BST.
Mark Sidebottom and Armagh's double All Star Oisin McConville will provide television commentary while on radio Owen McConnon is joined by Tyrone's three-time All-Ireland winner Enda McGinley.
Armagh's All-Ireland winning captain and Kildare manager Kieran McGeeney will give his thoughts in the TV studio.
Sunday's double-header opens at 14:00 with Cavan and Kerry's first championship encounter since 1997.
Cavan fans have to go all the way back to 1947 and the Polo grounds in New York for their last win over the Kingdom in the All-Ireland series.
Thomas Niblock and Martin McHugh will call the game for television while Ger Treacy and Brian Canavan offer the alternative on BBC Radio Ulster.
Down boss and two-times All-Ireland winner James McCartan will be on your screens providing expert analysis.
At 16:00 Donegal and Mayo bring the weekend to a close in a repeat of last year's All-Ireland final.
"We are thrilled for our audience to have secured these live matches across TV and radio, it's a massive weekend for Gaelic games and BBC NI Sport," said Margaret O'Hare, BBC NI sport senior producer.
Austin O'Callaghan will present the television coverage in the company of, among others Owen Mulligan, Jarlath Burns and James McCartan.
Saturday 3 August - Monaghan v Tyrone, Live on BBC2 NI (16:40) and Radio Ulster MW (16:45)
Sunday 4 August - Cavan v Kerry and Donegal v Mayo, Live on BBC2 NI (13:40) and Radio Ulster MW (13:45)