Ex-Antrim player James Loughrey enjoying life with Cork

By Thomas Niblock
BBC Sport NI
Last updated on .From the section Northern Ireland
James Loughrey is a freak. He just doesn't make sense.
The 26-year-old first picked up a size five football in his late teens while studying for his A levels - now he's developed into one of Ireland's top gaelic footballers.
The former Antrim footballer moved to Cork in March and since then he has started every championship game for the Rebels and is now arguably their best player.
"When he first landed at training we were thinking 'who's this fella' - he was winning all the races, lifting the heaviest weights at the gym. This season he's been our best player- I'd say that definitely," observed Cork goalkeeper Ken O'Halloran.
I've known James for a few years, playing football with him in Belfast, playing basketball with him on a Wednesday night with St Gall's, St Brigid's and the Niblock clans.
I remember one specific blood and guts gaelic training session - no balls, no gloves- just running. Afterwards, James did his own separate set of sprints. He holds several athletic records at SINI (Sports Institute of Northern Ireland) As I say, James Loughrey is a freak of nature.
So how did Loughrey end up in Cork?
"If it wasn't for my girlfriend Miriam I wouldn't be here. That's the main reason. We did the long distance relationship thing - it was grand for a while but there had to be an end game. She's a PE and Irish teacher in her hometown. Up north it's practically impossible to get a teaching job, particularly in PE. A job opened up down here so it made sense for me to move."
There is a school of thought that counties should do whatever they can to keep their best players. Some do, some don't. One question I hear time and time again - why did Antrim not do more to keep Loughrey at home? The answer- they couldn't.
"To be honest I never gave them the opportunity. I'm not the type of guy who'll say 'what can you offer me?' I hate that idea. I know in other counties players get helped out by the county and that's fine, but I just don't want to go down that line.
"I never came across the idea of county board helping me out. It was a practical decision, her job, my job. That was it."
The wing half-back went to St Patricks & Our Lady's Knock, not a traditional gaelic football school. It is more a basketball school, the sport that captivated him from a young age.
"I don't have a background in GAA and that probably helped in the move. Leaving St Brigid's and Antrim was huge, but I know some families around the Loughshore and places like would have a guilt factor that I probably should have felt - but I sort of didn't.
An accountancy job in Cork city, living and playing for Mallow, it was obvious Loughrey would feature on Conor Counihan's radar- and it didn't take long.
"Conor called me, I was actually in the gym, and thought it was one of my buddies at home. He said James do you want to come up to training, just for two weeks and we'll have a look at you. I appreciated the call and told him I'd ring him back and think about it.
"The squad was fluid enough, they were short a couple of players, I filled the gap. That's where it started. I was surprised at the call, but it was nice."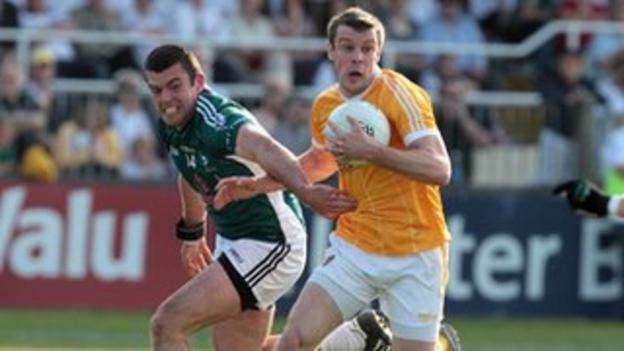 After starring against Limerick and Clare, Counihan told Loughrey he would be picking up Colm Cooper in the Munster final.
"I haven't too many fond memories of that one. I gave him too much respect on the right foot. He has the best left foot in the game but it took 20 minutes into the game until I realised his right foot is better than mine. We got beaten and I'm not going to lie - it's a day of bad memories. My mum, dad and sisters were down which was nice, but it was a bad day."
Being asked to mark 'Gooch' is testament as to how well the defender has settled in his new surroundings. Various newspapers and journalists have been chasing his mobile number for an interview since his move south and if Cork go on to reach the latter stages of the All-Ireland the word All-Star and Loughrey will begin to appear in the same sentence.
The latest chapter of the Loughrey story was written last weekend, playing in Croke Park and knocking Galway out of the championship - just as he did with Antrim last year.
"Because of the number of clubs in Cork their panel has a lot more depth and basically you can't afford to mess about. I have noticed a difference in attitude with players down here.
"The buck stops with you. If you don't prepare yourself properly, you won't be able to train. If you don't train 100% you're not going to be able to play - if you're not going to play- what's the point in being there? Personal responsibility is key and there would be a heavier emphasis on that down here."
This weekend 'Locky' will feel the blue heat of Dublin, something he's never experienced. No Antrim man has ever won Sam Maguire, so could 2013 make him the first?
"It is achievable- we've a huge game against Dublin and Saturday is the only thing we're thinking about.
"It will be like the coliseum in Rome, when you're a gladiator rocking in, 80,000 inside. You relish those moments. It's either kill or be killed- if we don't step up they'll step over us so you just have to do it, or else you're out."