Mid Antrim 150: Jamie Hamilton and Michael Sweeney doubles
Last updated on .From the section Northern Ireland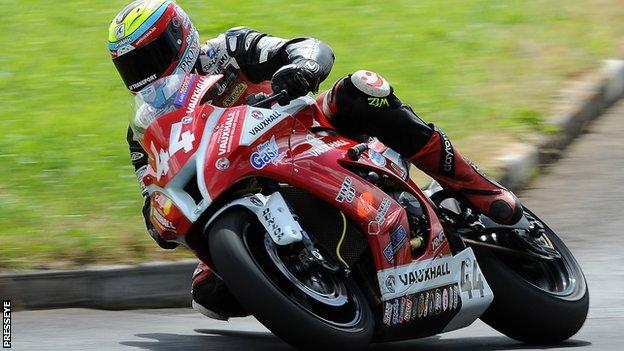 Jamie Hamilton and Michael Sweeney took two wins apiece at the Mid Antrim 150.
Hamilton secured his first-ever success in the Supersport 600 class, winning by 2.5 seconds from Seamus Elliott, who set a new lap record at 108.32mph.
Hamilton clinched the Irish Supertwins title for the first time by winning that class from William Davison.
Michael Sweeney took the 250cc honours and was then awarded the Grand Final win after pacesetters Hamilton and Derek Sheils collided and slipped off.
The pair were battling for the lead when the incident occurred at Corby Corner and the red flags went out to bring the race to a halt.
The result was taken from the last lap which all the riders had completed, with Hamilton and Sheils being excluded after crashing out unhurt.
That left Skerries man Sweeney the winner from Davy Morgan, Elliott and Davison, with Sheils emerging as the new lap record holder for the 3.6-mile Clough circuit.
Earlier in the day, Dubliner Sheils took a comfortable victory in the Open race on his CD Racing Kawasaki, ahead of Hamilton, Elliott and Sweeney.
Mullingar man Derek McGee came off at Clough Hairpin in that event, ruling him out of the remainder of the day's action.
Hamilton moved to the top of the Irish Supersport championship standings with his success in that class, in which Sam Wilson was third.
Yamaha rider Elliott, from Ballymoney, broke Ryan Farquhar's six-year-old lap record.
Sweeney took the flag in the 250cc race from Morgan, Sam Dunlop and Paul Robinson after leading contender Elliott retired.
Hamiton set a new class record at 102.90mph in the Supertwins event, in which Nigel Moore completed the rostrum.
Paul Robinson took the 125cc win from Dunlop and Moore, with Wilson having retired while leading.
Mark Hanna was a double winner in the Support classes.