Kris Meeke crashes out late in Rally Finland while in fifth place
Last updated on .From the section Northern Ireland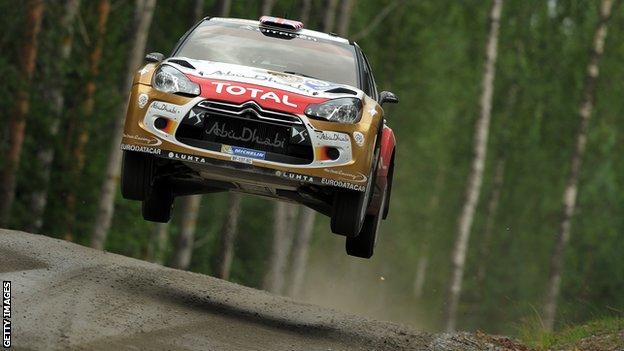 Dungannon man Kris Meeke suffered heartbreak as he crashed out on the penultimate stage of Rally Finland while lying in fifth place.
Meeke was making his return to the World Rally stage after 18 months out.
The Northern Irishman was standing in for regular Citroen driver Khalid Al Qassimi in the Finnish event.
Meeke was fifth after day one - one minute and 33 seconds behind leader Serbastien Ogier - and he maintained that position up until his exit.
After stage 21, he was one minute and 58 seconds adrift of Ogier but had a cushion of one minute and 29 seconds ahead of sixth placed Jarkko Nikara.
At that stage he was 47 seconds adrift of fourth placed Mikko Hirvonen.
But late on stage 22, Meeke crashed out on a narrow section as he rolled his Citroen four times.
Both Meeke and his co-driver Chris Patterson were uninjured.
Meeke had not competed in a World Championship event since his involvement with the Mini team in 2011.
Meanwhile Alastair Fisher crashed out of the WRC3 Citroen Top Driver category after ending day one as the leader.
Fisher and eventual winner Keith Cronin were involved in an enthralling battle for the lead, with just a few tenths of a second separating the pair, before Fisher's exit.