Former Tyrone star Enda McGinley amazed by Joe Brolly outburst
Last updated on .From the section Northern Ireland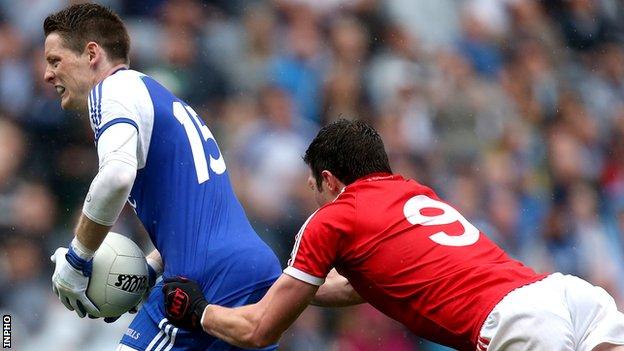 Former Tyrone star Enda McGinley has spoken of his disbelief at Joe Brolly's trenchant criticism of Sean Cavanagh following the Red Hand County's win over Monaghan on Saturday.
Brolly was infuriated by Cavanagh's rugby-style tackle on Conor McManus in the second half of Tyrone's win.
But McGinley has described Brolly's comments as "too personal".
"I know Sean Cavanagh well and to imply that he is not a man on public TV," added McGinley, shaking his head.
"He has used word like 'rotten', 'embarrassing' and 'disgusting' about Tyrone and for me as a Tyrone person is very hurtful.
"The incident itself wasn't the worst incident of the weekend.
"I know Joe well. He's always at a wee bit of winding and digging and he's usually very entertaining but I just felt that this time he really lost the plot and went completely over the top."
McGinley added that he agreed with Brolly's sentiments about the need for the GAA authorities to introduce a rule to adequately punish the "pull down when a player is in on goal".
"But I felt the language he used was not right for the circumstance.
"Sean Cavanagh only yesterday said that he's in favour of the black card and doesn't think that the punishment of a yellow card in that circumstance is fair.
"I don't think you would find that anybody would disagree.
"It's long been known that that particular foul has not had the right punishment but every team has suffered it and every team has gained from it.
"To suddenly go hot on it seems unfair. In soccer, they have the red-card rule which no gaelic player would object to either."
Speaking on Monday, pundit Brolly defended his comments which he made in the RTE studio after Tyrone's win.
Speaking on Radio Ulster's Talkback, Brolly said he had been very angry and felt very strongly about how "cynical fouling" was becoming "a template for the game" for young people.
"Sean Cavanagh was the straw that broke the camel's back. We need to stop this, we are the only sport in the world that tolerates cynical fouling," he said.
"He is probably the best footballer of the modern generation, but this is poisoning the game... To be fair, he gave a post-match interview where he said: 'I don't like this... but we are just exploiting the system as it stands.'"
Brolly condemned what he called the "win-at-all-costs" mentality although he acknowledged that Tyrone supporters would not agree with his view.
"It is beginning to poison the ethos of the game," he said.
But, he pointed out that, given the response to what happened at the match, the GAA rule makers now had "the wind at their backs" and were in a position to change the rules.