Conor Gormley's semi-final ban overturned
Last updated on .From the section Gaelic Games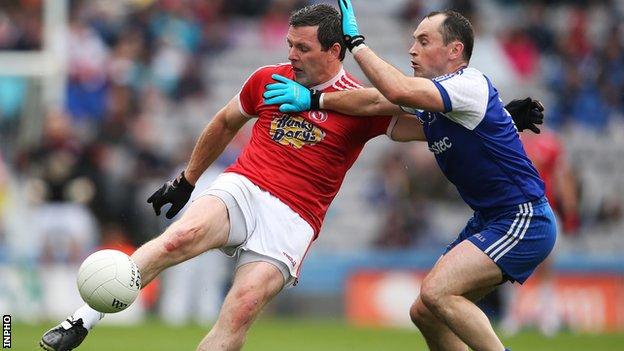 Tyrone defender Conor Gormley can line out in the All-Ireland semi-final against Mayo after having a proposed one-match suspension overturned.
The GAA confirmed on Friday that Gormley's proposed ban had been rescinded following an appeals hearing.
Gormley was handed the retrospective ban arising from an incident in Tyrone's win over Monaghan.
Martin Penrose remains suspended as his request for an appeal hearing was not submitted within the specified period.
Forward Penrose's ban arises from his straight red card in the All-Ireland quarter-final.
The Central Hearing Committee upheld Gormley's appeal as the "infraction as alleged is not proven".
Gormley was banned for an altercation with Monaghan's Dessie Mone as the players left the pitch at half-time during their All-Ireland quarter-final.
Penrose was sent-off for his part in the same incident.
Penrose was given a straight red card by referee Cormac Reilly on the resumption of the second-half for his alleged strike on Mone as the teams made their way off at the break in Croke Park.
Gormley was also involved in the same incident but as the referee took no action, it was felt he had escaped punishment.
However, the GAA's Central Competitions Control Committee opted to recommend the punishment for Gormley during their meeting on Monday night.
Tyrone boss Mickey Harte said that he didn't believe that the controversy surrounding Sean Cavanagh's tackle on Conor McManus in the quarter-final had provoked the GAA into taking retrospective action against Gormley.
"I would believe that the GAA are big enough to stand on their own two feet.
"These things will go on in press and media circles. I know the GAA are above that.
"The people who make (disciplinary) decisions make them in good faith. We'll believe to put our trust in that."
Once again, Harte strongly defended his team and indeed Cavanagh against accusations that they regularly resort to cynical tactics.
"Sean Cavanagh held his hands up and said it was a foul that he wouldn't prefer to commit but had to do in that case.
"The kind of foul that he did commit didn't hurt anyone. Lots of fouls across the field that may hurt players don't attract anything like the attention that he attracted for that.
"I don't think we deserve that (cynical) tag. It's not something anyone of us want to see in the game and steps will be taken to reduce it."