Rain halts road racing once again as Dundrod 150 is abandoned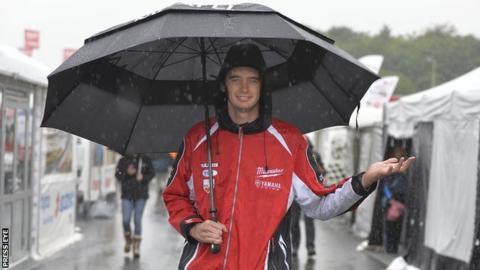 Northern Ireland road racing suffered another weather-inflicted blow on Thursday as the Dundrod 150 had to be abandoned because of persistent rain.
Three months ago an early halt had to be called at the prestigious North West 200 meeting because of heavy rain.
The Dundrod 150 was scheduled to be held on Thursday as part of the Ulster Grand Prix bike week.
With the weather forecast not good, there are now concerns about Saturday's main Ulster Grand Prix meeting.
There will be no racing or practice on Friday as the organisers are restricted to three road closing orders at the meeting.
Practice also took place on Wednesday and following Thursday's premature halt to the action, that leaves Saturday as the only remaining day at the meeting.
Before the rain started to fall heavily on Thursday afternoon, there were a number of qualifying sessions for Saturday's Ulster Grand Prix meeting.
Michael Dunlop's fastest Superbike lap of 130.831 mph left him ahead of Guy Martin (129.536) and his brother William (128.450).
Martin (120.40) topped Supersport practice ahead of Bruce Anstey (120.93) and Conor Cummins (119.90) with William Dunlop (119.34) in fourth.
Lee Johnston (118.93) and Michael Dunlop (118.80) completed the top six in the Supersport session.
Conor Cummins (128.202), Gary Johnson (127.236) and Jamie Hamilton (126.797) completed the top six in the Superbike session with Dean Harrison (125.898), Bruce Anstey (125.752), Alan Bonner (125.748) and Cameron Donald (124.914) occupying seventh to 10th positions.
Ivan Lintin (113.243) led the lightweight qualifying ahead of Lee Johnston (111.737) and Jamie Hamilton (111.591) with Ian Lougher (102.806) fastest in the ultra-lightweight session ahead of Christian Elkin (102.354) and Warren Reeve (98.711).
Superstock qualifying did start before a halt had to be called.