Sean Cavanagh says McManus tackle was calculated risk
Last updated on .From the section Northern Ireland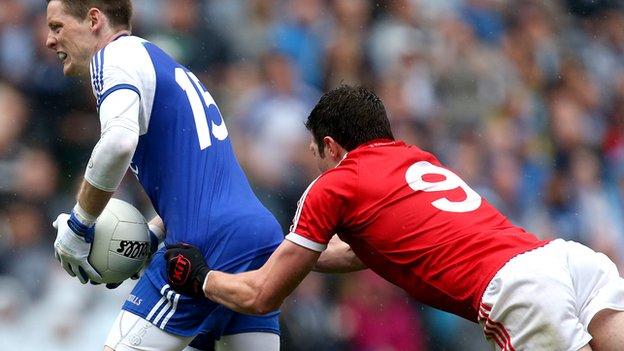 Tyrone's Sean Cavanagh has admitted his controversial tackle on Conor McManus in the All-Ireland quarter-final had been a calculated risk.
Cavanagh received a yellow card for hauling down his Monaghan opponent to prevent a possible goal.
He was then criticised in a much talked about outburst by television pundit Joe Brolly, a former Derry player.
"I knew I would incur a yellow card but I was taking a calculated risk for the benefit of my team," said Cavanagh.
"I, as much as anyone else, do not want to see that in Gaelic football and it has been done to me more than I have done it to other people.
"I have been on the receiving end and maybe that is where the instinct comes from."
Four times All Star recipient Cavanagh said the choice he had to make was between probably losing an All-Ireland quarter-final and taking a yellow card.
"I knew a player as talented as Conor McManus is going to put the ball in the net when he gets a chance," added the 30-year-old midfielder.
"I made the decision to pull him down and I felt it was a risk worth taking.
"If for one minute I thought I might hurt someone I would never do that.
"I met Darran O'Sullivan from Kerry recently and he said that back in 2011 when they played Dublin in the All-Ireland final they let Kevin McManaman run through and score a goal with seven or eight minutes left and they were slated because no-one had the brains to take a yellow card at that stage of the game.
"I took some comfort from that."