Skipper Jackson McGreevy says Antrim U21 hurlers have belief
By John Haughey
BBC Sport NI
Last updated on .From the section Northern Ireland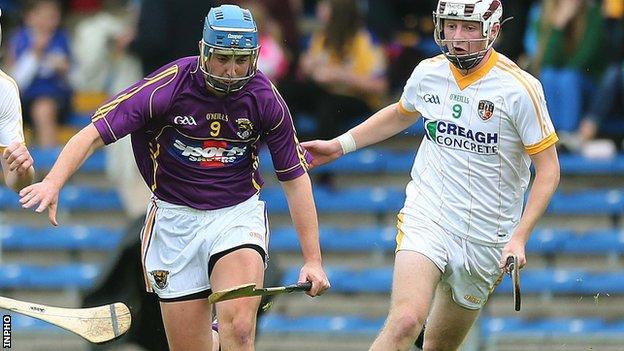 Jackson McGreevy. Kind of a swashbuckling name to go along with his status as one of hurling's up-and-coming names.
You have visions of a slow-talking cattle rancher from the deepest Glens of Antrim.
Instead, you're greeted by friendly west Belfast tones and a solid handshake from a 19-year-old whose family are steeped in the St Gall's club with eight of his cousins also playing for the Milltown outfit.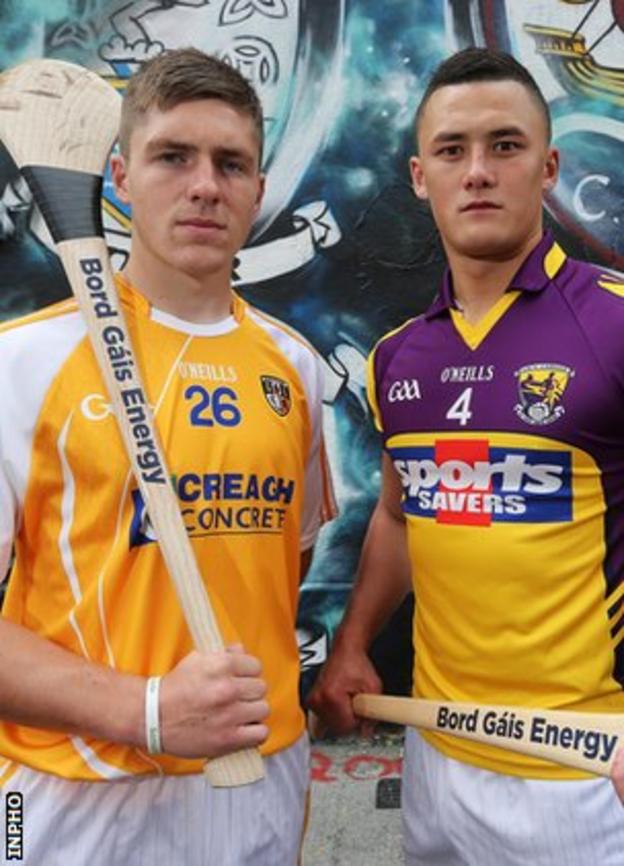 In advance of the chat about the prospects of another monumental hurling upset, the question has got to be asked.
Was the Antrim Under-21 captain named after Michael Jackson or maybe even Jackson Browne?
Declaring an interest, it would be a pleasant diversion on this glorious sunny evening in Ballymena to have to shoot the breeze on the talents of the still alive and kicking Mr Browne.
But instead, there's a shake of the head and a chuckle in response from McGreevy, who made his senior Antrim debut when still aged 18 back in March.
"Naw, naw, naw. That's just the name my mum and dad picked. Just Jackson. Just me on my own. I wasn't named after any one," says the 19-year-old St Gall's club-man.
That important matter put to bed, it's time to talk about probably one of the biggest shocks in sporting history when McGreevy and his Saffron team-mates stunned Wexford in the All-Ireland Under-21 hurling semi-final just over a fortnight ago.
Wexford, after beating Kilkenny in a thrilling Leinster decider, went into the All-Ireland semi-final as 80-1 on with some bookmakers to beat Antrim.
Even in a two-horse race, you couldn't really had argued with Wexford's rampant favouritism. After all, last year's Antrim Under-21s had suffered a 28-point drubbing by Clare at the same stage.
But somehow, Antrim headed down to Semple Stadium that day with belief as they set up the Saffron county's hurling fraternity's biggest day out since the 1989 All-Ireland Senior Final defeat by Tipperary.
Antrim's conviction bordered on the irrational two and a half weeks ago but McGreevy believes the positivity of manager and Waterford man Kevin Ryan had seeped into the minds of the young Saffrons.
"Kevin has just brought a belief into Antrim (with both the seniors and under-21s).
"He's worked with some of the top hurlers in the country down in Waterford and he's worked with top clubs in Wexford.
"He just tells us: 'Lads...you have the stick work, you have the skills as good as anywhere I've seen in the country'.
"He has really instilled the belief in us that we are as good as the big names down south.
"There are hurlers he's worked with in the seniors and the Under-21s this year that are twice the player that they were before.
"He has proved that he can develop hurlers. He is definitely a very, very positive figure to have in a changing room."
Step one, says McGreevy, was being still in the contest after 20 minutes but instead the Saffrons were five points ahead by that stage.
"We went down looking for a performance rather than a result. To leave with some dignity.
"But after 15 or 20 minutes, we were up and we started thinking among ourselves: 'We can do this'.
"At half-time we were calm and collected. There was no shouting or banging hurls on tables. No mad speeches or ranting and raving. It was just all about keeping cool heads and going out and finishing the job in the second half."
Antrim's four-point interval lead was extended to eight with just over 10 minutes left and while Wexford cut the margin to two by injury-time the Saffrons held on for a thoroughly deserved victory.
The stunning semi-final win was earned by a squad that had been together for little more than a month.
Mind you, that was still a big improvement on two years before when there had been tales about the Antrim team bus heading up the Andersonstown Road in search of players on the morning of the 3-23 to 0-6 All-Ireland semi-final drubbing by Dublin at Newry.
"This is my first year with the Under-21s but I've heard it's always the same late scraping teams together," adds McGreevy.
"The fact that we were so late getting the team together and can still beat the likes of Wexford is an indication of what we could do if we really took it seriously."
But in an immediate next breath, McGreevy adds that the Saffron youngsters have got to forget about all the plaudits they have been receiving for their win over Wexford as they approach Saturday's All-Ireland decider against holders and favourites Clare.
Antrim will be taking on a Clare team that some pundits regard as the finest under-21 outfits in hurling history.
Given that 14 of the team were part of the Clare senior squad which drew in Sunday's thrilling All-Ireland Senior Final against Cork, you can see where those experts are coming from.
"They have an amazing reputation," agrees McGreevy, "but we can't back down from that.
"They are hurlers in our squad that are as good as anywhere I've even seen. We just have to go down and do a job.
"Obviously Clare will be better than Wexford. But we are not going to back down from it just because of their reputation."
Kevin Ryan's words indeed appear to be having the desired effect.