Antrim U21 hurlers unchanged for All-Ireland final against Clare
Last updated on .From the section Northern Ireland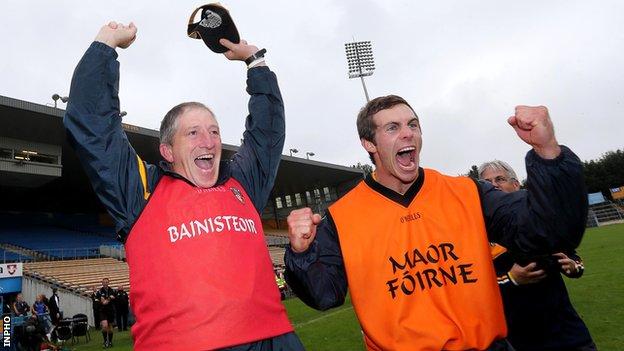 Antrim manager Kevin Ryan has named an unchanged starting line-up for Saturday's All-Ireland Under-21 hurling final against holders and favourites Clare.
Chris McGuinness has to be content with a place on the bench.
McGuinness missed the semi-final after being required for club football Championship duty with Rossa.
Antrim assistant boss Neil McManus said earlier this week that the issue had been "put to bed" after the semi-final.
However, McGuinness was listed at number 20 in the Saffron team announced on Thursday night.
Wing-back Ciaran Johnston, who missed training earlier this week because of a knee injury, has been named in the defence.
Assistant boss McManus says the focus is on getting the Saffron players right rather than worrying about star-laden Clare ahead of Saturday's decider.
Despite the sensational semi-final win over Wexford, the Saffrons will still go in at Thurles as massive underdogs.
Holders Clare have 14 of the current Banner County senior squad which drew in Sunday's All-Ireland Senior Final against Cork.
"We would be much better to concentrate on ourselves and get the best out of our lads," McManus told BBC Sport.
"We will be looking to give them the freedom to express themselves on the day rather than putting any worries on them."
Senior Antrim star McManus and county team-mate Barry McFall are part of the management team put together by boss Ryan in early July.
Given that all the other contenders for the All-Ireland Under-21 title had been in training for several months, a place in the national decider would have been considered a complete pipe dream at that stage.
The Saffrons showed that they were several cuts about the opposition in Ulster as they waltzed to the provincial title but nobody gave them a snowball's chance in hell of them upsetting Wexford in the subsequent All-Ireland semi-final. After all, Wexford had beaten Kilkenny in the Leinster decider.
But incredibly, the 80-1 on Model County outfit were stunned by the Saffrons in surely the sporting upset of 2013 to set up Saturday's decider at Semple Stadium.
McManus admits that Wexford probably did underestimate the fired-up Saffrons three weeks ago.
"What they expected to get and what the got were significantly different," he adds.
"But it was one of those days when everything Antrim hit went over the bar. Every rub of the green we got it."
Nobody was more surprised by the result than Clare player and senior star David McInerney, who was shocked to be told in a live TV interview after the second semi-final at Thurles, that the Saffrons had defeated Wexford.
But whatever about McInerney's mild embarrassment, Antrim assistant McManus says that it will be "quite unrealistic" to expect the Saffrons to achieve another sensation this weekend.
"I think Clare are probably the best under-21 team I have ever witnessed. And them having 14 players involved in the senior final last Sunday just emphasises that.
"But our lads have lot of character and lots of hurling which they proved against Wexford."
McManus points out that captain Jackson McGreevy, Ciaran Clarke, Stephen McAfee, Mattie Donnelly and Chris McGuinness have all played for the county's senior team and that several other members of the squad have been impressing in the Antrim club championship in recent weeks.
"We'll not be asking them to pull off any Houdini strokes but just to lay it all on the line for Antrim."
Antrim: G Dixon; C Morgan, M Donnelly, C Morgan; T Ó Ciaráin, P McNaughton, C Johnson; J McGreevey, E Campbell; S Dooey, S McAfee, N McKenna, ; D McKernan, C McCann, C Clarke. Subs: C McAlister, D Kearney, M Dudley, M Bradley, C McGuinness, D McGuinness, S Beatty.
Clare: R Taaffe; P Flanagan, D McInerney, J Browne; S Morey, A O'Neill, S O'Halloran; C Galvin, T Kelly; P Duggan, P Collins, C Malone; C O'Connell, S O'Donnell, D O'Halloran.