Keith Farmer still part of Paul Bird Kawasaki team BSB plans
Last updated on .From the section Northern Ireland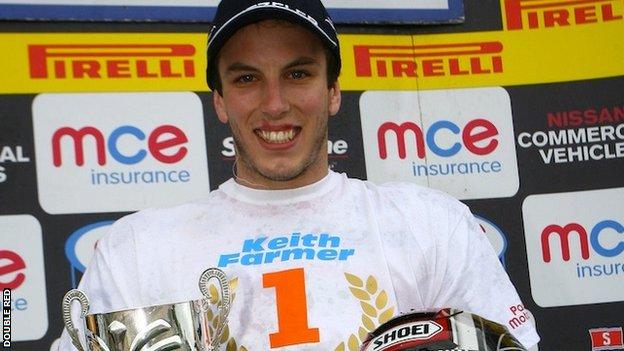 Northern Ireland rider Keith Farmer may still compete in the remaining three rounds of this season's British Superbike Championship.
Farmer's Paul Bird Kawasaki team announced on Monday that they had hired Japanese rider Noriyuki Haga for the remainder of this year's series.
However, the team said on Tuesday that Farmer could compete in the remaining three races if he proved his fitness.
The Clogher man has been affected by illness in recent weeks.
"Keith Farmer remains a member of the Rapid Solicitors Kawasaki team and will do so for the remainder of the 2013 season." said a statement from the team on Tuesday evening.
"Should Keith and the team deem him fit enough to race in any of the remaining MCE British Superbike Championship rounds this season, upon clearance from the BSB medical team, a third Rapid Solicitors Kawasaki would be made available for Keith to race.
"If he's unable to race again this season at BSB level, another option being considered by the team is to field Keith in an end of season non-championship meeting of his choice.
"For a number of weeks now, Keith has suffered from a debilitating illness which has affected his performances on track.
"As a result, Keith has sought and continues to seek medical advice and has undergone tests whereby a diagnosis is expected soon and a programme of treatment can commence.
"The team is contractually bound to field two riders for the remainder of the season.
"A combination of Keith's illness, combined with the extra pressure to perform in the showdown, whereby they felt it would be unfair to him, led to the team making the decision to engage the services of Haga."
The Bird team's other rider Shane Byrne is currently leading the series with Farmer in 11th place overall.
Farmer, 26, achieved his only podium finish in this year's series at the Knockhill round in June and he has failed to complete a number of recent races.
The Tyrone man won the British 1000cc Superstock title for Bird's team last season.
Haga, 38, is a three-time runner-up in the World Superbike Championship having 43 races in that series during his career.
The Japanese rider's first outing with the Bird team will be at this weekend's round in Assen in Holland.