Frank Dawson in surprise resignation from Antrim football job
Last updated on .From the section Gaelic Games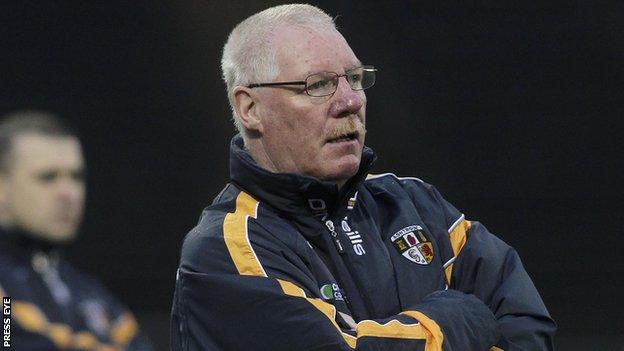 Frank Dawson has resigned as Antrim senior football manager after less than a year in charge of the Saffrons.
Speaking exclusively to BBC Sport NI, Dawson said his decision to quit on Tuesday was taken "very reluctantly".
"The bottom line here is that the county board's ambitions did not match mine," he said.
Dawson claimed he was left with no alternative but to resign after it became clear that his vision of the way forward for Antrim was not shared by all elements of the county's hierarchy.
However, the Antrim board expressed "surprise and disappointment" at Dawson's decision and made clear their unhappiness that the departing manager had informed them of his resignation by text message.
"We were informed by text message at the same time it was made public," said county PRO Brendan Mulgrew.
"This comes after he enjoyed the complete and total support of the county board.
"We don't recognise at all what he is talking about in his statement.
"We held a meeting with him last week to discuss the future plans and further meetings were going to take place to move that on.
"There were no big disagreements last week and discussions were ongoing.
"After all that, we get a text message from him telling us that he is resigning?"
However, Dawson's statement claimed that being true to his "principles and values" had left him with no option but to stand down from the Saffron role.
"I came into the Antrim job with a wide-ranging remit and of course I was bitterly disappointed at the way things worked out last season.
"However I remain absolutely convinced that the template drawn up for the future of Antrim football, if given the necessary support at all levels of the county, would have delivered both promotion and longer success for Antrim.
"It was made obvious to me since my ratification, and over recent days, following a meeting with county officers, that my plans and ambitions for moving forward were not matched by all concerned. It always appeared that there was a different agenda.
"Therefore I believe it is best for all concerned, and in particular for all those genuine Antrim footballers and supporters, that I move on."
Dawson took over in Antrim in October 2012, having previously managed Down county hurlers and several club football teams in Ulster, but endured a difficult first season in charge.
The Saffrons were relegated to Division Four and lost both championship outings against Monaghan and Louth.
Prior to the championship, Dawson became embroiled in a dispute with Cargin pair Tomas McCann and Tony Scullion which led to both players missing out on the summer campaign.
In addition, James Loughrey switched allegiance to Cork during Dawson's reign while Michael McCann was among other players who opted out of the county squad.
Meanwhile, Gregory McGonigle has stepped down as manager of the Monaghan ladies senior football team, following Sunday's one point defeat to Cork in the All-Ireland final.